2017 Work Programme
The McGuinness Institute was fortunate to be able to set its work programme in response to where we think we can deliver value. This means that the observations made throughout 2016 shaped our work programme for 2017. We remained flexible throughout the year to ensure that our focus remains on exactly what we believe is most important for the long-term future of New Zealand. Below is a map of our 2017 work programme. Learn more about our observations from previous work programmes below. To learn more about what drives our work programme, please see and 
subscribe
 to our 
annual newsletter
.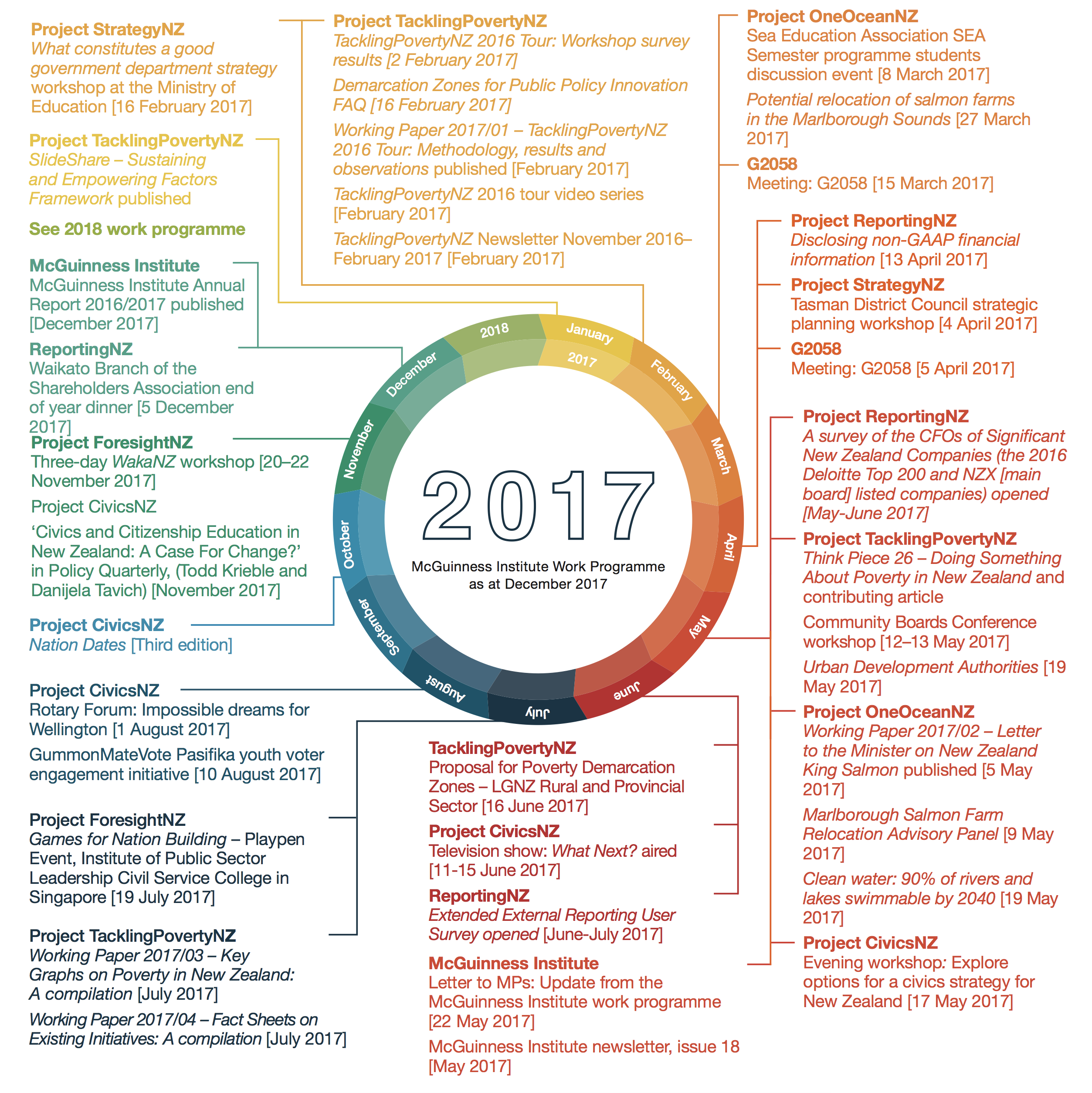 2016 Work Programme
The McGuinness Institute is fortunate to be able to set its work programme in response to where we think we can deliver value. This means that the observations made throughout 2015 shape our work programme for 2016. We remain flexible throughout the year to ensure that our focus remains on exactly what we believe is most important for the long-term future of New Zealand. Below is a map of our 2016 work programme. See below to learn more about our observations form 2015. To learn more about what drives our work programme, please see and subscribe to our twice-yearly newsletters.
2015 Work Programme Observations
Seven key observations from our work in 2015
The world has changed. The international community is facing human, environmental, economic, political and cultural challenges on an unprecedented scale.
New Zealand will be impacted by this changing world. In particular, the exploitation of rapidly developing technology (e.g. in terms of medicine, food production, transportation and warfare) and the mass migration of our global population will put further pressure on our economy, trade partnerships and inequity.
New Zealand has never been more closely linked to the global economy and world governance through our role on the UN Security Council (2015 and 2016) and our membership on the Executive Board of the World Health Organisation (2015 to 2018). This provides a unique opportunity to be in a position to bringing about global change.
Big data is going to be part of the problem. We need to focus on quality not quantity. We need to ensure we have useful data; data that together creates information and builds knowledge. Most importantly we need timely, complete and accurate data that informs problem definition, strategic options, strategy implementation and ideally an informed society (so that society is prepared to take the pain in the short term in order to gain benefits in the long term).
The wild card* for 2016 is defence and security. Building defence capability and strong international relationships in 2016 will become increasingly important as the likelihood of terrorist attacks and cyber-crime increases. This is particularly relevant in terms of policing our ocean and building capability in the Pacific. [* Wild cards are low-probability, high-impact events.]
The black elephant** for 2016 is our livestock future. Given recent medical research on the effects of red meat on our health and known impacts of livestock pollution on our waterways and atmosphere, we have some serious thinking to do in terms of how we shape our livestock future. [** A black elephant is a cross between "a black swan" (an unlikely, unexpected event with enormous ramifications) and the "elephant in the room" (a problem that is visible to everyone, yet no one wants to address it).]
The lion in the grass*** for 2016 is social unrest. New Zealand will need to work hard to create a more cohesive and connected society, building empathy and respect in to the ways we do business, develop public policy and grow, attract, retain and connect talent. [*** A lion in the grass suggests it is not the lions we can see that are the problem; but rather, in trying to avoid them, it is often the lions hidden in the grass that we stumble upon that become an unwelcome surprise.]
Three Principles
In 2014, 10 years since after the Institute was established, Wendy McGuinness took a sabbatical to explore the international public policy landscape. Part of this time involved eight weeks looking at what Europe has to provide in terms of green cities and great urban design – looking at ways to create a place where talent wants to live. From this trip she developed three principles to guide the Institute's work programme going forward.
Principle 1: Focus on choice rather than freedom (as a focus on choice will over time deliver independence and freedom).
Principle 2: Focus on fairness rather than equality (as working on being fair is likely to lead to a more equal and cohesive society).
Principle 3: Focus on family rather than the individual (as a focus on family and more broadly community will make society more resilient to shocks).
Our work programme below illustrates what we achieved in 2015 in collaboration with our partners.