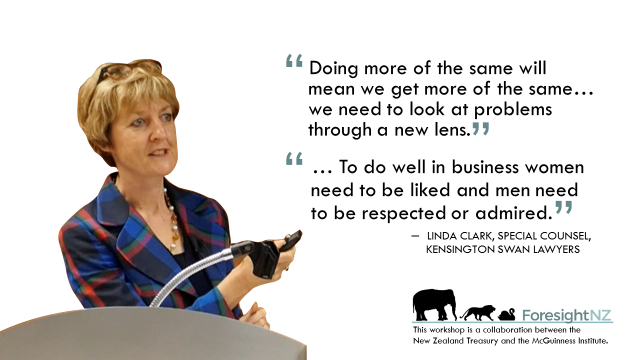 Linda Clark, Special Counsel, Kensington Swan Lawyers, discusses gender and work-life balance on day two of the three-day ForesightNZ workshop in Wellington on 27–29 April 2016. Linda's three key points were:
More opportunity for women has failed to translate into equity;
We all work longer, but women still earn less; and
Do we need to look at this differently?
You can watch the video of her presentation on the McGuinness Institute's YouTube channel, or view it below.
Linda states that her presentation can be encapsulated by a Gloria Steinem quote – 'The first problem for all of us, men and women, is not to learn, but to unlearn'. Linda asserts that her career has been defined not so much by her ability, but by her gender.
Linda asks, 'why do we not have equity?' and gives three possible reasons:
Systemic inertia – it is hard for policy-makers to get the system to change; built-in inertia within structures prevents development or change.
Unconscious bias – women do not put themselves forward in meetings, and do not put themselves up for opportunities. In addition, when women request a pay-rise, they ask for 30% lesson average than their male co-workers. There is an inbuilt, social system that undermines progress.
Children – children change the dynamic between men and women; something fundamental with the family experience and the child's bond with the mother challenges equitable relationships. We need to come up with ways to confront this situation and fit it into a policy setting.
Challenges for policy-makers:
Doing the same tinkering will not change anything – policy changes do not flow through into the work place; 'doing more of the same will mean we get more of the same'.
Can we look at problems through a new lens? – the unpaid and voluntary work that women do fails to be recognised by the community.
Do we need to change the way we define 'good' or 'successful' behaviour? – policy-makers reward behaviour. However, society does not see raising children as 'good' or 'successful' behaviour. Until we recognise this, it is going to be very difficult to solve the gender issue.
ForesightNZ playing cards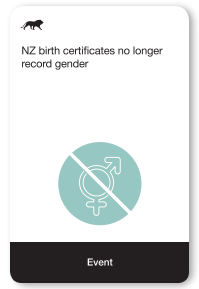 Linda's presentation led to the development of the ForesightNZ Event Card: NZ birth certificates no longer record gender. This card is one out of a pack of 64 that was developed at the ForesightNZ workshop. Participants created a robust foresight tool in the form of a pack of cards based on the events and trends that they believe could significantly shape New Zealand's long-term future. They then designed three different games to play with the pack. The games aim to develop a deeper understanding of the possible futures that might occur if a small number of those cards played out in real life. The pack of cards are in the final stage of production and will soon be made available to download, print and cut your own – keep an eye out on the website. They are also available to purchase from our online store. The accompanying booklet is now published on the website and available to purchase here.
About the ForesightNZ workshop
Project: ForesightNZ aims to build public policy capability in New Zealand by encouraging long-term, agile thinking around our uncertain future. Initiated in 2008, ForesightNZ is about conceptualising the broad range of possible futures for New Zealand through up-to-date tools and conceptual approaches used in the field of futures studies. The primary focus of the ForesightNZ: Untangling New Zealand's long-term future workshop was to develop a way to deal with the increasing complexity and uncertainty in the world around us. This workshop was a collaboration between the New Zealand Treasury and the McGuinness Institute. To watch other speaker presentation videos from the ForesightNZ workshop, head to the McGuinness Institute's YouTube Channel.