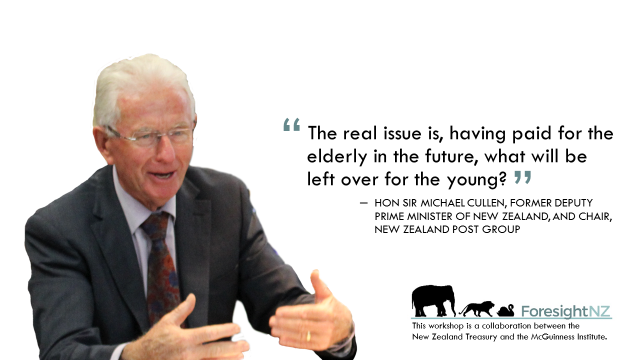 Hon Sir Michael Cullen, former New Zealand deputy prime minister, shares his thoughts on the opportunities and challenges in making good policy on day one of the three-day ForesightNZ workshop in Wellington on 27–29 April.
You can watch the video of his presentation on the McGuinness Institute's YouTube channel, or view it below.
Sir Michael Cullen outlined three issues around the opportunities and challenges in making good policy:
1. Dominance of self-interest or the dominance of perceived self-interest:
Cullen asserted that it is a 'truism that most people vote according to their own self-interest – people are not as generous as they think when it comes down to the ballot box'.
Example: The issue of spending money on children and young people versus spending money on the elderly.
Issue: Having paid for the elderly, what will be left for the young?
Opportunity: Change the frame of reference – the future of the elderly is dependent on the future success of today's young people; how well young people are doing is going to affect how well elderly people are going to do.
2. Failure to identify true self-interest:
Example: Business spokespeople and inequality – traditional arguments have stated that inequality will promote growth and activity in the economy and therefore prompt greater well-being.
Issue: Businesses will struggle if people are struggling.
Opportunity: Develop evidence-based policy.
3. Short-term thinking:
Cullen argued that people largely engage in short-term thinking and commentary. People such as policy-makers and the media think 'what will this policy to do the public perception of the government in the next 48 hours?'
Example: Global warming.
Issue: Governments have been failing to act and incorporate long term thinking, which means that New Zealand, and the world, is going to end up with sub-optimal policies with sub-optimal results and therefore global warming is going to get worse.
Opportunity: Develop long-term frameworks to analyse problems.
Hon Sir Michael's presentation led to the development of the ForesightNZ Trend Card: Tension between old and young. This card is one out of a pack of 64 that was developed at the ForesightNZ workshop. Participants created a robust foresight tool in the form of a pack of cards based on the events and trends that they believe could significantly shape New Zealand's long-term future. They then designed three different games to play with the pack. The games aim to develop a deeper understanding of the possible futures that might occur if a small number of those cards played out in real life. The pack of cards are in the final stage of production and will soon be made available to download, print and cut your own – keep an eye out on the website. They are also available to purchase from our online store. The accompanying booklet is now published on the website and available to purchase here.
About the ForesightNZ workshop
Project: ForesightNZ aims to build public policy capability in New Zealand by encouraging long-term, agile thinking around our uncertain future. Initiated in 2008, ForesightNZ is about conceptualising the broad range of possible futures for New Zealand through up-to-date tools and conceptual approaches used in the field of futures studies. The primary focus of the ForesightNZ: Untangling New Zealand's long-term future workshop was to develop a way to deal with the increasing complexity and uncertainty in the world around us. This workshop was a collaboration between the New Zealand Treasury and the McGuinness Institute. To watch other speaker presentation videos from the ForesightNZ workshop, head to the McGuinness Institute's YouTube Channel.