Parekawhia McLean, CEO of Waikato-Tainui Te Kauhanganui Inc., discusses the long term economic and policy priorities that New Zealand faces at day one of the three-day ForesightNZ workshop in Wellington on 27–29 April.
You can watch the video of her presentation on the McGuinness Institute's YouTube channel, or view it below.
Parekawhia steered participants' focus to the changing nature of the relationship between the Crown and Māori and its future impacts on the environment, the economy and inclusiveness. She quoted Kīngi Tāwhio, who said 'mehemea kare kau ana he whakakitenga, ka mate te iwi' (where there is no vision, the people will perish). Parekawhia discussed the forward-looking focus of Waikato-Tainui and how this has enabled her to understand the importance of working collaboratively, taking integrated approaches to achieve outcomes. She explained that Māori policy should be in the centre of New Zealand's long-term vision, not tacked on to the side.
ForesightNZ playing cards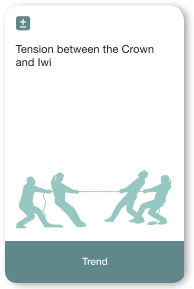 Parekawhia's presentation led to the development of the ForesightNZ Trend Card: Tension between the Crown and Iwi. This card is one out of a pack of 64 that was developed at the ForesightNZ workshop. Participants created a robust foresight tool in the form of a pack of cards based on the events and trends that they believe could significantly shape New Zealand's long-term future. They then designed three different games to play with the pack. The games aim to develop a deeper understanding of the possible futures that might occur if a small number of those cards played out in real life. The pack of cards are in the final stage of production and will soon be made available to download, print and cut your own – keep an eye out on the website. They are also available to purchase from our online store. The accompanying booklet is now published on the website and available to purchase here.
About the ForesightNZ workshop
Project: ForesightNZ aims to build public policy capability in New Zealand by encouraging long-term, agile thinking around our uncertain future. Initiated in 2008, ForesightNZ is about conceptualising the broad range of possible futures for New Zealand through up-to-date tools and conceptual approaches used in the field of futures studies. The primary focus of the ForesightNZ: Untangling New Zealand's long-term future workshop was to develop a way to deal with the increasing complexity and uncertainty in the world around us. This workshop was a collaboration between the New Zealand Treasury and the McGuinness Institute. To watch other speaker presentation videos from the ForesightNZ workshop, head to the McGuinness Institute's YouTube Channel.