The Institute's response to the Ministry for the Environment's Clean water: 90% of rivers and lakes swimmable by 2040 proposal is now available online. In this submission we discuss our latest Project OneOceanNZ publications and put forward additional ideas for discussion including creating a Minister of Water and an Oceans Institution (drawing from Think Piece 22 – Proposal for the Creation of an Oceans Institution). We thank the Ministry for the Environment for the opportunity to share observations from our work in this area.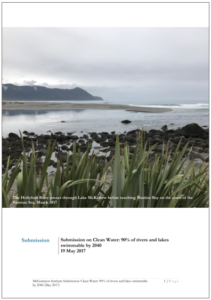 We considered this submission to be relevant to our work programme because we see rivers as the linkage between our Project LivestockNZ and Project OneOceanNZ. The health of our oceans, particularly in inshore areas, is directly linked to the health of our waterways. Read the consultation document on the Ministry for the Environment website.
Background to OneOceanNZ
Project OneOceanNZ aims to explore New Zealand's public policy landscape in order to contribute to a wider discussion on how we might best manage our oceans. We will continue to look at public policy solutions around ocean governance, as it is an important long-term issue for New Zealand.