The Institute completed Submission on the Potential Relocation of Salmon Farms in the Marlborough Sounds in response to the Ministry for Primary Industries consultation on 27 March 2017.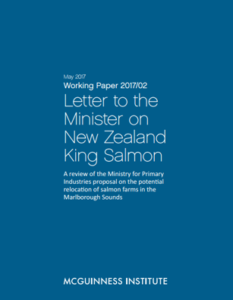 Because we had such a wide range of concerns about this relocation proposal, some of which are outside the scope of the consultation but highly relevant for consideration by the Minister for Primary Industries, we developed a letter directly addressing the Minister for Primary Industries. This letter was a significant part of our verbal submission on 9 May 2017 and is now published as Working Paper 2017/02 – Letter to the Minister on New Zealand King Salmon. Wendy also attended the economics expert caucusing session in Blenheim on 10 May 2017 to further discuss our concerns with the consultation.
The most significant of these concerns are
that the relocation proposal is being pushed through ahead of public consultation on the national direction for aquaculture set for mid-2017, and
that the outcome of the proposal may have widespread implications for future resource management decisions in New Zealand.
We continue to believe that transparent reporting and robust strategy development processes are crucial, especially in cases that involve the private use of public and environmentally delicate resources such as water space in the Marlborough Sounds. This work not only illustrates why ocean policy cannot be regulated in isolation (as discussed in Report 10 – One Ocean: Principles for the stewardship of a healthy and productive ocean) but also shows why New Zealand needs an oceans institution to develop slow and durable public policy (see Think Piece 22 –Proposal for the Creation of an Oceans Institution). Follow the relocation proposal by reading other submissions and transcripts here.
Background to OneOceanNZ
Project OneOceanNZ aims to explore New Zealand's public policy landscape in order to contribute to a wider discussion on how we might best manage our oceans. We will continue to look at public policy solutions around ocean governance, as it is an important long-term issue for New Zealand.