Building pathways to New Zealand's preferred future
About
The overall aim of StrategyNZ is to contribute to a discussion on how to improve strategic decision-making, strategy stewardship and implementation in both the private and the public sector.
Strategy development explores the means to achieve a preferred future (the ends). When working on strategy, we tend to focus on values, objectives/goals, resources, capabilities, limitations, relationships, key results and actions (what to do and what not to do).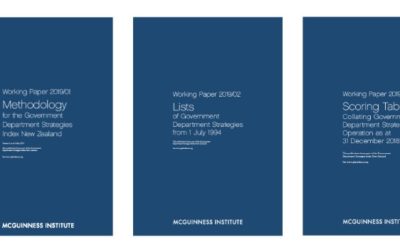 The McGuinness Institute launched the 2018 GDS Index on Thursday 2 May 2019 at a lunchtime presentation attended by around 40 MPs, government...
Sir Paul Callaghan Speech
One hundred inspired New Zealand entrepreneurs can turn this country around. That is the challenge for us all. – Sir Paul Callaghan (1947–2012).
In March 2011, the Institute was fortunate to have Sir Paul as the keynote speaker for our first workshop, StrategyNZ: Mapping our future. In this talk, he shared his unique strategy for changing the way we live in NZ by doing more of the 'weird' stuff we are good at. This strategy could open up a pathway to achieve low-carbon, sustainable economic growth that has a minimal impact on the environment. As Callaghan says, 'creative and talented people have a choice where they live in the world', so the goal is to make New Zealand 'a place where talent wants to live'. ⁠Watch the keynote speech here.
See a selection of our latest research and publications related to StrategyNZ below.