OneOceanNZ
Promoting the stewardship of a healthy and productive ocean
Frequently Asked Questions
OneOceanNZ is a McGuinness Institute project that aims to contribute to a wider discussion on how we might best practice ocean management by promoting the stewardship of a healthy and productive ocean. We will continue to look at public policy solutions around ocean governance, as it is an important long-term issue for New Zealand.

Choosing books for a friend or an acquaintance is a real treat; it gives you an opportunity to think about that person's character, what they mean to you and what they might enjoy learning about. The Prime Minister's Summer Reading List is personal, but it is also...
For a full list of OneOceanNZ publications see the 'Publications by date' page and search OneOceanNZ or use the 'Policy Project Type' filter in the table.
As we continue to work on the OneOceanNZ project we are constantly finding new resources that contribute to this wide topic.
If you are aware of any interesting resources you would like to share, please get in touch. 
Many of the resources on this list have kindly been suggested by Ann McCrone, Marine Advocate at the World Wildlife Fund New Zealand. 'The State of our Marine Environment' map was provided by Bronwen Golder, Director of Global Ocean Legacy the Pew Charitable Trusts.
Exploring the science–policy interface for Integrated Coastal Management in New Zealand, Ocean & Coastal Management, 84, 107-118 (Bremer & Glavovic, 2013)
EU marine strategy framework directive (MSFD) and marine spatial planning (MSP): Which is the more dominant and practicable contributor to maritime policy in the UK?, Marine Policy, 43, 359–366 (Brennan, [et al.], 2014)
Principles for Integrated Marine Planning: A Review of International Experience, Environments Journal, 37(3), 21-46 (Dickinson, [et al.], 2010)
One hundred-fold difference between perceived and actual levels of marine protection in New Zealand, Marine Policy, 46, 61–67 (Eddy, 2014)
Ocean in peril: Reforming the management of global ocean living resources in areas beyond national jurisdiction, Marine Pollution Bulletin, 74(2), 540-551 (Gjerde, [et al.], 2013)
Dynamic Ocean Management: Integrating Scientific and Technological Capacity with Law, Policy and Management Stanford Environmental Law Journal, 33(2), (Hobday, [et al.], 2014)
Living up to the Brand: Greening Aotearoa's Marine Policy, Policy Quarterly, 8(1), 17- 28 (McGinnis, 2012)
An innovation and agency perspective on the emergence and spread of Marine Spatial Planning, Marine Policy, 44, 366-374 (Merrie & Olsson, 2014)
Perspectives on effects-based management of New Zealand exclusive economic zone resources, Ocean & Coastal Management 54, 652-657 (Morgan, 2011)
Global Priorities for Marine Biodiversity Conservation, Plos One, 9(1), (Selig, [et al.], 2014)
In deep water: Humans are damaging the high seas. Now the oceans are doing harm back (The Economist, February 2014)
Mining seafloor massive sulphides and biodiversity: what is at risk?, ICES Journal of Marine Science, 68(2), 341-348 (Van Dover, 2011)
Tighten regulations on deep-sea mining, Nature, 470, 31-33 (Van Dover, 2011)
Designating networks of chemosynthetic ecosystem reserves in the deep sea, Marine Policy, 36(2) 378-381 (Van Dover, [et al.], 2012)
Economic evaluation of the recreational value of the coastal environment in a marine renewables deployment area, Ocean & Coastal Managemet, 78, 77-87 (Voke, [et al.], 2013)
Close the High Seas to Fishing? Plos Biology, 12(3), (White & Costello, 2014)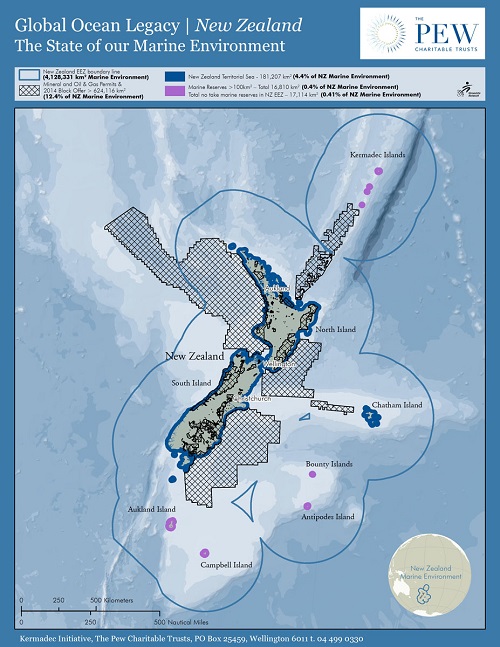 The total marine environment of New Zealand is 4,128,331 km².
Under the Convention on Biological Diversity, New Zealand is committed to protecting at least 10% of its marine environment. New Zealand has 53 no-take or partially protected areas that officially meet the NZ MPA Standard. There are 37 marine reserves (no-take) and 16 Type 2 MPAs (partially protected areas).
The total area of marine reserves (n=37) = 17,116 km².
The total area of Type 2 MPAs (n=16) = 4,592 km².
Marine reserves (n=37) make up 0.45% New Zealand's marine environment.
Offshore MRs make up 16,812 km².
Mainland NZ MRs 304 km².
At the rate of implementation (until now) it will take 430 years to designate 5% of New Zealand's marine environment as marine reserve.
Currently 12.4% of New Zealand's marine environment has been allocated for mining or oil and gas permits.
Trawl fishing sweeps 9% of New Zealand's marine environment.
No progress appears to have been made towards an EEZ MPA planning process.
No progress on the new MR Bill, which was meant to be ready for introduction to the House in the second half of 2013.
The only official coastal MPA regional planning process currently underway is the recently started Otago MPA planning process, announced October 2013.
There are at least nine community/non-governmental initiated marine protection proposals known to Government (in the Bay of Islands, Hauraki Gulf, Kaikoura, Kaipara Harbour, Kermadec Region, Marlborough Sounds, Mimiwhangata, Whangarei, and on Waiheke Island).