Learning lessons now for the future
PandemicNZ is a McGuinness Institute project that aims to help New Zealand prepare for future pandemics, as well as manage and learn from the current COVID-19 pandemic. It draws together early Institute publications as well as an increasingly comprehensive suite of research and publications into the current pandemic.
SupplyNZ: Winning the war against COVID-19 is a sub-project of PandemicNZ, and aims to connect makers, suppliers and purchasers of important equipment in the battle against COVID-19. See recent initiatives below.
Next Steps
The McGuinness Institute prepares its work programme every year. For this project, we envisage preparing Working Paper 2020/02 – An Analysis of the responses to 'Open Letter to District Health Boards – 25 March 2020' mid-2020. In 2021 we intend to produce a Project 2058 report, Lessons for New Zealand from the COVID-19 Pandemic.
Pandemics are not uncommon. The COVID-19 pandemic is the fifth global pandemic in just over a century. Previous pandemics began in 1918, 1957, 1968 and 2009. When looking back over time, pandemics can be seen as part of the normal cycle of events: what the McGuinness Institute calls 'The Long Normal'. Pandemics tend to be categorised as mild, moderate or severe. COVID-19 is a moderate pandemic.
On 31 December 2019, the World Health Organization (WHO) was first notified about multiple cases of pneumonia from an unknown cause, circulating in Wuhan, China. On 11 January 2020, the first known death was confirmed. Nine days later, Thailand became the second country to record its first case of the coronavirus and, shortly afterwards, cases were recorded in Japan, South Korea and the United States. By 30 January 2020, over 10,000 cases had been reported globally and WHO declared a global health emergency. On 11 February 2020, WHO officially titled the coronavirus disease COVID-19. By 11 March 2020, there were over 118,000 recorded cases across 114 countries and WHO declared COVID-19 a pandemic.
McGuinness Institute's latest publication Nation Dates: Timelines of significant events that have shaped the history of Aotearoa New Zealand (fourth edition) contains a detailed timeline of events that occured during the COVID-19 pandemic in New Zealand. View the timeline in full here, or purchase a copy of Nation Dates here.
COVID-19 National Response Framework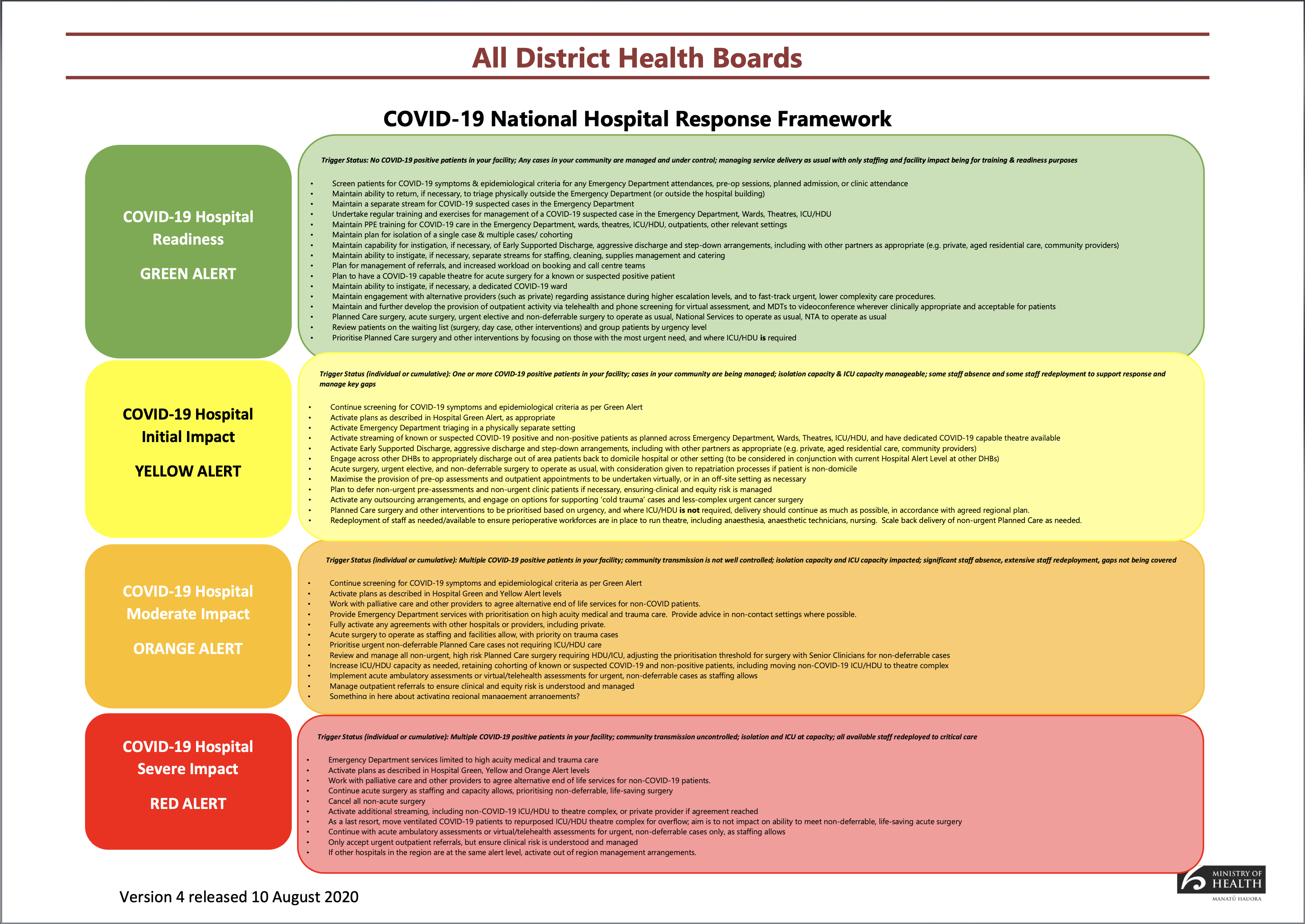 Above is Version 4 of COVID-19 Hospital Response Framework from the Ministry of Health.
These hospital escalation levels are specifically for hospitals (different to National Alert Levels).
Ministry of Health
Download (PDF, 250 KB)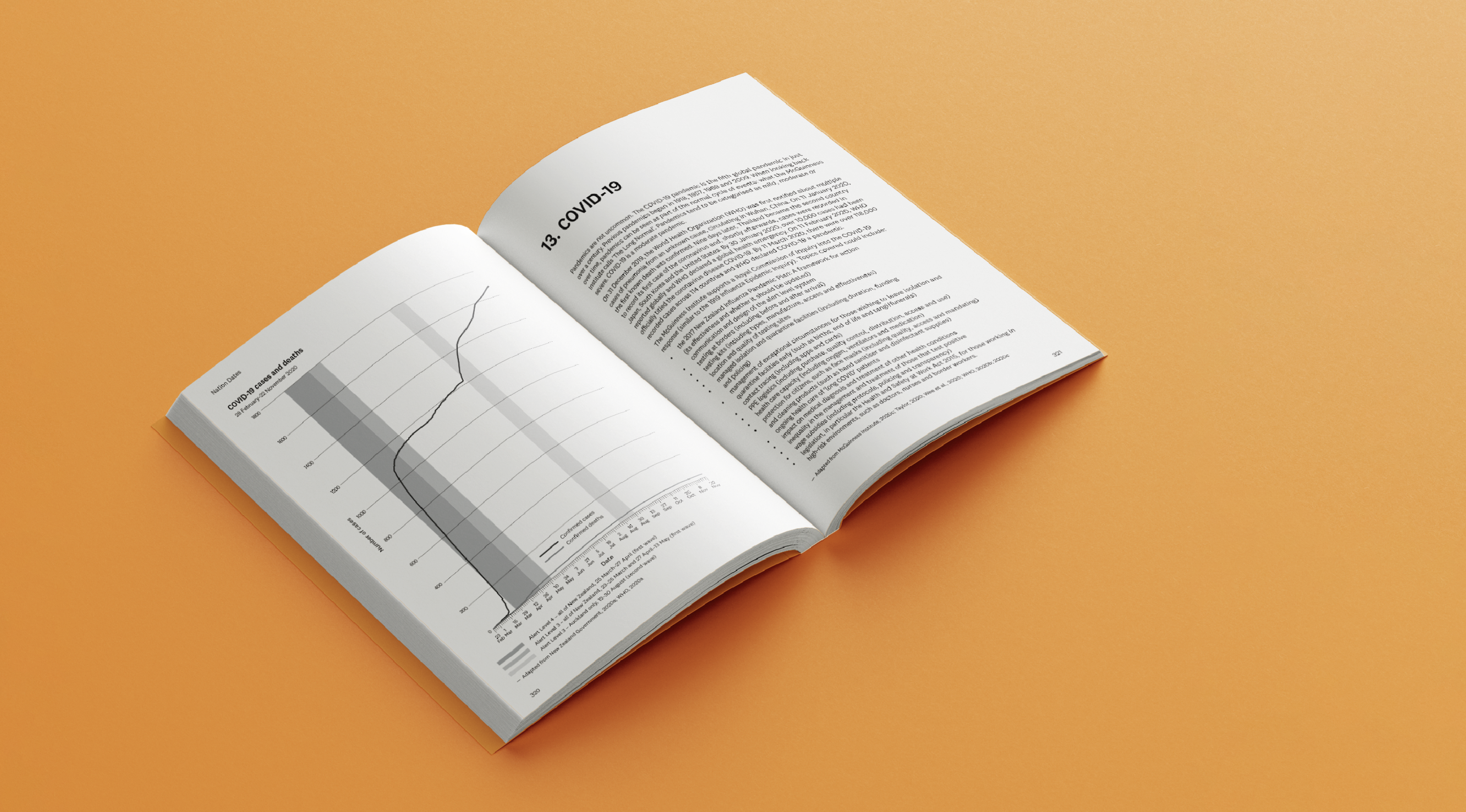 SupplyNZ 
In March 2020, in response to the COVID-19 pandemic, the McGuinness Institute created SupplyNZ: Winning the war against COVID-19. While hopeful that New Zealand's lockdown strategy will work, we feel it is important to build New Zealand's connections and capabilities now in case the nationwide lockdown is not enough to stop the spread of the virus, and results in gaps in supply chains.
We welcome makers, purchasers and suppliers of healthcare products as well as organisations or individuals with production capabilities (e.g. raw materials, bulk fabric or 3-D printing) and/or time to fill out the registration form to be placed on the SupplyNZ Register.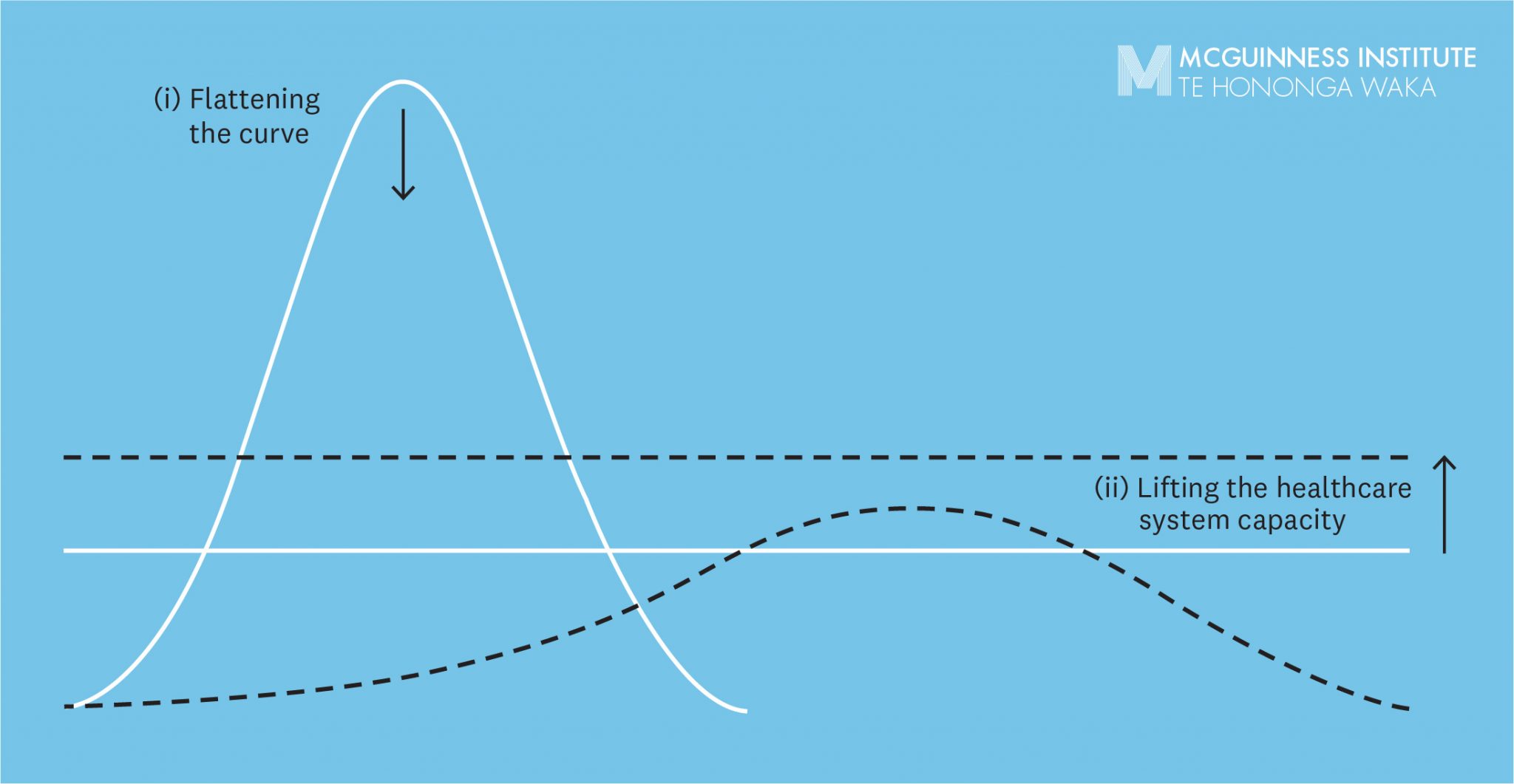 See a selection of our research and publications related to PandemicNZ below.
Strategy 
There are a wide range of variables that New Zealand needs to consider and seek to understand. This section contains our thinking and some probes through social media to understand what other people are thinking. As things are changing over time, we have provided a brief timeline to show the context of the publications below.