PublicScienceNZ
Investing in science for the long-term benefit of New Zealand.
Frequently Asked Questions
PublicScienceNZ is a project that aims to contribute to a discussion on how to invest in science for the long-term benefit of New Zealand. This project aims to contribute to the limited dialogue concerning the government-funded science system, in the hope that New Zealand invests its research dollar well and delivers sustainable outcomes for current and future generations. The project was established in 2012 and is ongoing.
Recent Work
On 31 July 2015 the Royal Society of New Zealand published a special issue on the future of science in New Zealand. Wendy personally submitted an article entitled 'The future of scientific thought', which was accepted early this year and can now be found in Volume 45, Issue 2 (available for free online until the end of August 2015) of the Journal of the Royal Society of New Zealand. The article chiefly examines the relationship between science and society, looking at how this relationship has changed over time to better understand how it may shape our future.
Methodology
The project is built on an assumption that society needs good science. However, we have found that the government-funded science system has a long way to go before it delivers value to society through the provision of a vibrant and dynamic science community that is committed to working hard to achieve a shared vision for the future. As outlined in Report 9: Science Embraced, the formula for improving well-being through science consists of nine strategic pillars that together build a space where science and society meet. The pillars build sequentially on one another, creating an integrated and transparent framework in what could loosely be called a social contract.

Choosing books for a friend or an acquaintance is a real treat; it gives you an opportunity to think about that person's character, what they mean to you and what they might enjoy learning about. The Prime Minister's Summer Reading List is personal, but it is also...
For a full list of PublicScienceNZ publications see the 'Publications by date' page and search PublicScienceNZ or use the 'Policy Project Type' filter in the table.
June 2017: Interview with Paul Philpott from Square Roots, New York
During her trip to New York Wendy visited and interviewed Paul Philpott (see photo to the right), one of ten farmer/entrepreneurs of Square Roots (an initiative bringing fresh produce to the people of New York City). Wendy spoke to Paul about the future of farming in big cities. You can read the interview on our blog.
3 June 2017: World Science Festival 2017 – The Future of Farming: Programming perfect produce (New York)
Wendy attended the World Science Festival 2017 – The Future of Farming: Programming perfect produce in New York where she watched a demonstration of 'food computers', which are enclosed, programmable containers that allow you to simulate any environment for growing different crops. Read more about this event on our blog.
May 2017: The governance of Genetically Modified Organisms in New Zealand
As part of a research-based learning project, a team at Victoria University hosted two collaborative event for students and guests to explore policy recommendations for the regulation of genetically modified trees on Wednesday, 10 and 17 May 2017. Wendy McGuinness was invited to speak about the Institute's work on genetic modification in Report 16 – An Overview of Genetic Modification in New Zealand 1973–2013: The first forty years and Think Piece 6 – While AgResearch Fiddled. This event was invitation only.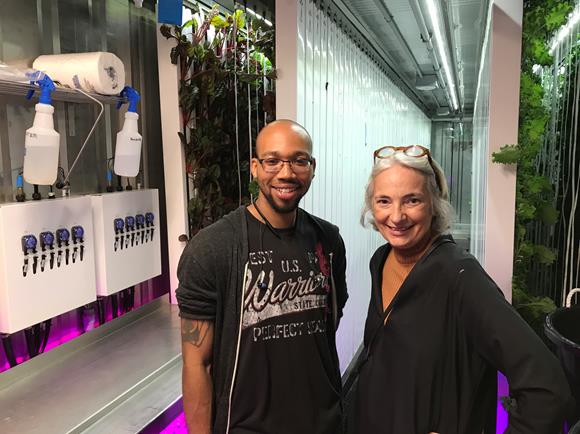 The aim of the project is to monitor developments in genetic modification and related policy both in New Zealand and overseas to examine whether our regulatory scheme is fit for purpose.
Methodology
The 2001 Royal Commission on Genetic Modification was created to explore the landscape and propose a way forward for Government. A great deal of public money and time was spent negotiating this issue. The Institute's first piece of extensive work led to two reports in 2008 that reviewed the Royal Commission's proposals against what was delivered seven years later. The second piece of extensive work was a 2013 report that documented an overview of genetic modification in New Zealand between 1973 to 2013. The Sustainability Council also maintains a strong interest in this area and is well worth visiting.
The aim of this project is to learn from past one-off events in order to be more resilient in the future.
In 2006, the Institute completed a report titled  Managing the Business Risk of a Pandemic: Lessons from the past and a checklist for the future (June 2006). This Report reviewed past epidemic and pandemic events in order to suggest ways to make New Zealand more resilient.
In 2015, as a result of the 2014/15 Ebola outbreak in West Africa, we worked with Roger Dennis (Christchurch) and Rick Boven (Auckland) to produce the following report: New Zealand Supply Chain Resilience Report (also known as Lessons From the West African Ebola Outbreak in Relation to New Zealand's Supply Chain Resilience) (2015). This report was sponsored by Z Energy Limited and Foodstuffs (NZ) Limited. See our contributing papers page to read this report.
Methodology
The strategic aim of this paper is to add to the dialogue on managing a pandemic. This paper is broken up into four parts:
Part 1: Reviews lessons from history, including a study of 9/11, Chernobyl and other disasters in order to reveal effective management strategies for the eventuality of a pandemic.
Part 2: Explores the use of effective risk management strategies in the past.
Part 3: Explores New Zealand's underlying strengths and weaknesses, and the dynamics of a pandemic marketplace.
Part 4: Poses a set of questions for organisations to answer, so that they can assess and manage the financial effects of a pandemic. The checklist is generic, rather than specific to any industry.
This project was generated as a result of a request for a paper for the Conferenz Bird Flu Pandemic – Business Continuity and Planning Update Conference in Auckland and Wellington on 24 and 31 May 2006, titled 'Predicting and Planning for the Financial Impact on Your Business'. The resulting paper has been expanded and updated to reflect the additional knowledge gained from discussions with presenters and participants at the conference. Special acknowledgement must be made to the conference organiser, Kevin Smit, and the Chair, David Lumley, Chief Advisor, Strategic Management, Ministry of Economic Development.
McGuinness Institute related publications
(Public Science)
Submission: Draft National Statement of Science Investment 2014–2024, Appendix 1, Appendix 2, Appendix 3, Appendix 4
Report 9: Science Embraced: Government-funded science under the microscope 
Report 9 – Executive Summary: Science Embraced: Government-funded science under the microscope
Report 9b – A History of Government-funded Science 2009–2011
Background Report 9a: A History of Government-funded Science from 1865–2009 
Submission: Draft New Zealand Energy Strategy and the Draft New Zealand Energy Efficiency and Conservation Strategy 
Submission: Energy Related Entities in the Public Sector 
McGuinness Institute related publications
(Genetic Modification)
Report 16 (Project 2058) – Executive Summary: An Overview of Genetic Modification in New Zealand 1973-2013: The first forty years
Report 16 (Project 2058) – Full Report: An Overview of Genetic Modification in New Zealand 1973-2013: The first forty years
Report 16 (Project 2058) – Appendices: An Overview of Genetic Modification in New Zealand 1973-2013: The first forty years
In Focus: Genetically Modified Forages – an update on the current status of genetically modified forages in New Zealand
In Focus: Transgenic Livestock Programme – an update on the current status of AgResearch's transgenic livestock programme
Think Piece 6: An opinion piece on the strategic direction of Genetic Modification in New Zealand, timed to provide additional information on applications by AgResearch
Report Project Genetic Modification: The Review of the Forty-nine Recommendations of the Royal Commission on Genetic Modification
Report Project Genetic Modification: The History of Genetic Modification in New Zealand
Listen to Wendy McGuinness speak with Jenny Ruth on RadioNZ's Morning business news (starting at 8.55 minutes)
RadioNZ: Listen here