TacklingPovertyNZ
Exploring ways to tackle poverty in New Zealand
Frequently Asked Questions
The TacklingPovertyNZ initiative aims to contribute to a national conversation on how to reduce poverty in New Zealand.
2018 promises to be an interesting year for TacklingPovertyNZ considering the portfolio of Prime Minister Jacinda Ardern as Minister for Child Poverty Reduction and the strong focus of the current government on these issues. We look forward to finding ways to work together to address this issue and strengthen New Zealand to face the challenges and opportunities ahead.
The diagram below maps our TacklingPovertyNZ publications bringing together the outputs of the 2016 regional workshops and other research from throughout 2017.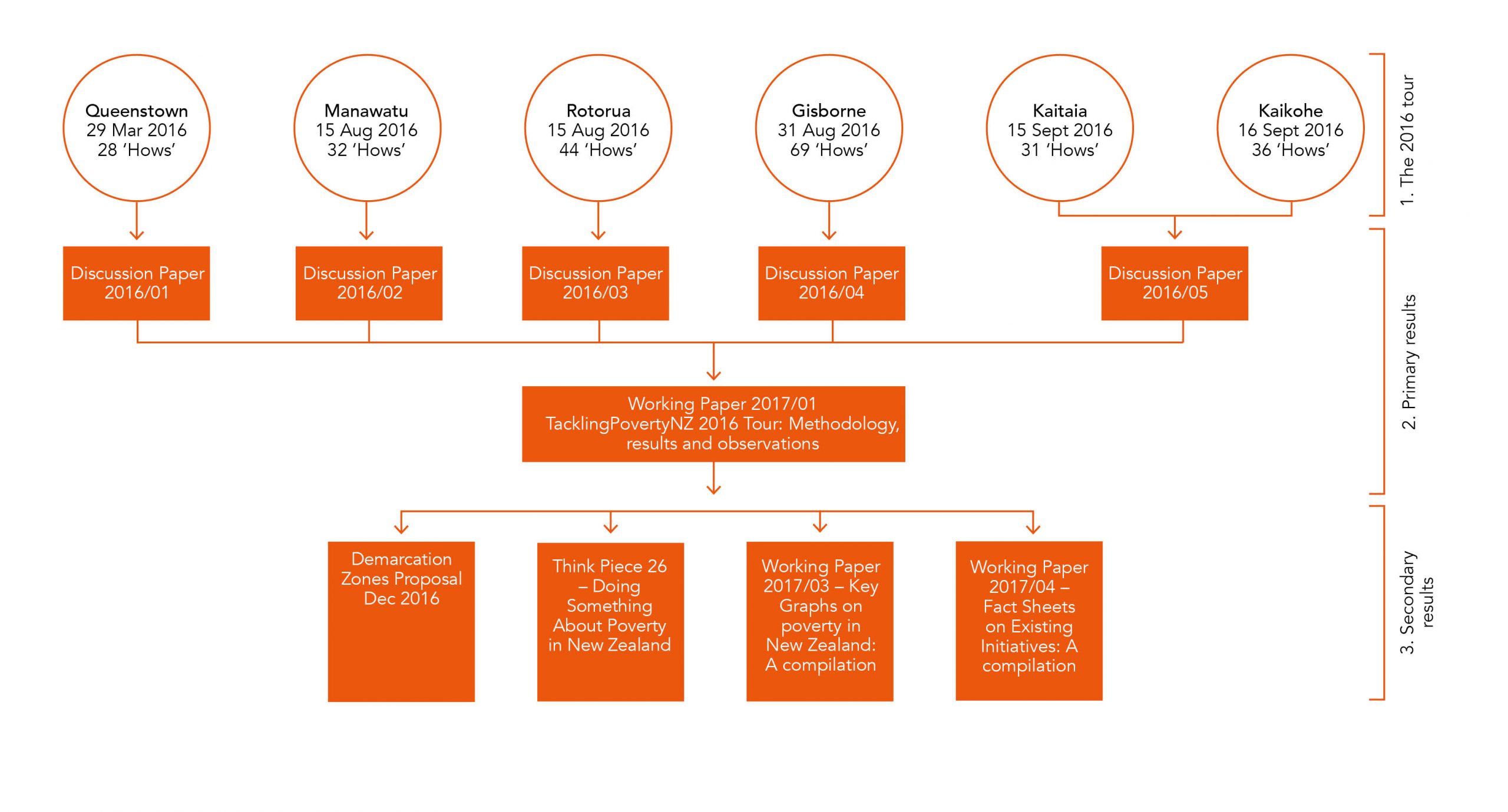 Choosing books for a friend or an acquaintance is a real treat; it gives you an opportunity to think about that person's character, what they mean to you and what they might enjoy learning about. The Prime Minister's Summer Reading List is personal, but it is also...
For a full list of TacklingPovertyNZ publications see the 'Publications by date' page and search TacklingPovertyNZ or use the 'Policy Project Type' filter in the table.
In order to contribute to a national conversation about poverty, we previously published a regular TacklingPovertyNZ newsletter. However, we have decided to put the TacklingPovertyNZ newsletter on hold due to the substantial work programme we have planned for 2020. If you are interested in following our work, the McGuinness Institute newsletter discusses recent research and events related to tackling poverty, alongside other projects; it is an annual update for interested parties covering events since the last newsletter and our plans for the rest of the year.
You can subscribe to receive the McGuinness Institute annual newsletter here or read Issue 19 here.
Past issues of the TacklingPovertyNZ newsletter are still available to read here.
The TacklingPovertyNZ workshops are a collaboration between the New Zealand Treasury and the McGuinness Institute.
Background
In December 2015, the McGuinness Institute undertook a three-day workshop in collaboration with The New Zealand Treasury. The workshop brought together 36 New Zealanders between the ages of 18 and 25 to explore ways to reduce poverty in New Zealand. To see the final presentation by the 36 participants or videos of workshop speakers, please watch the Institute's YouTube TacklingPovertyNZ Playlist. The primary output from the workshop was a booklet outlining participants' observations, reflections and recommendations for how New Zealand might tackle poverty. You can download a PDF of the booklet here. You can learn more about the 2015 workshop here.
About the 2016 Tour
One of the observations made by participants at the 2015 TacklingPovertyNZ workshop was that poverty in New Zealand is too complex an issue to be overcome with a blanket solution. Instead, solutions must be sought at a local level to acknowledge that poverty has vastly differing consequences for people in different areas of New Zealand. This observation has led to the undertaking of a TacklingPovertyNZ tour – a series of one-day workshops around New Zealand to provide a platform for local voices to address the issue of poverty in their region. You can learn more about these one-day workshops here.
About the Logo
The logo needed to acknowledge the seriousness of poverty while at the same time expressing optimism and practicality. To depict a more literal struggle would risk implying an overly emotional or defeatist attitude, where instead the intention of this workshop is to move forward with purpose and positivity. Bright orange illuminates the issue, bringing it out into the open so that we can confront it directly. Think of the logo as two arms reaching out to tackle it. They are open, not closed, to emphasise the importance of broad-mindedness and clarity of thinking in the fight against poverty.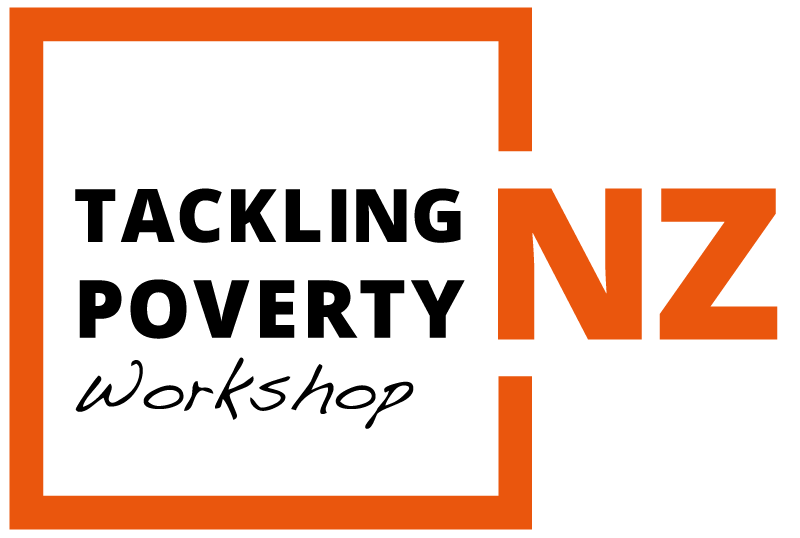 Wealth and New Zealand
BWB Texts – Max Rashbrooke, 2015
The Child Poverty Debate: Myths, Misconceptions and Misunderstandings
BWB Texts – Jonathon Boston and Simon Chapple, 2015
The Inequality Debate: An Introduction
BWB Texts – Max Rashbrooke, 2014
Growing Apart: Regional Prosperity in New Zealand
BWB Texts – Shamubeel Eaqub, 2014
The Piketty Phenomenon: New Zealand Perspectives
BWB Texts – Multiple contributors, 2014
Prosperity Without Growth: Economics for a Finite Planet
Earthscan – Tim Jackson, 2009
Improving the family environment in which children are raised is vital to any serious effort to reduce poverty and expand opportunity.  Twenty-five years of extensive and rigorous research has shown that children raised in stable, secure families have a better chance to flourish.
The family structure in and of itself is an important factor in reducing poverty: children raised in single-parent families are nearly five times as likely to be poor as those in married-couple families.
Household Incomes in New Zealand: Trends in indicators in inequality and hardship 1982 to 2014
Ministry of Social Development – Bryan Perry, August 2015
Economic Survey of New Zealand 2015
OECD – June 2015
Child Material Hardship Report
Ministry of Social Development – Bryan Perry, May 2015
Download here
New Zealand General Social Survey: 2014
Statistics New Zealand – May 2015
Download here
Recent Wealth and Income Trends in New Zealand
Salvation Army – Alan Johnson, February 2015
Income Mobility in New Zealand: A Descriptive Analysis
The New Zealand Treasury – Kristie Carter, Penny Mok and Trinh Le, November 2014
Regulatory Impact Statement for Minimum Wage Review 2013
Ministry of Business and Innovation – February 2014
Relief of poverty
Charities Services – 2012
The Living Standards Framework
The New Zealand Treasury – June 2012
SSIR newsletter on measuring pathways out of poverty
Peter Manzo – December 2015 (recommended by David Rutherford)
Child Poverty in New Zealand
Unicef New Zealand – October 2015
Richard Gere goes incognito as homeless man
Stuff.co.nz – October 2015
Robert Reich on Why Capitalism Needs Saving
Rolling Stone – Mike Konczal, October 2015
It's not a lack of self-control that keeps people poor
The Conversation – Elliot Berkman, September 2015
BROKE
SB Nation – Spencer Hall, September 2015
Sustainable Development Goals
United Nations – September 2015
A glimpse into homelessness in West Auckland
Salvation Army – Reina Tuai Harris, August 2015
MBIE's Pacific Economic Strategy 2015-2021
Ministry of Business Innovation & Employment – 2015
National Drug Policy 2015 to 2020
Ministry of Health – August 2015
Inequality in New Zealand 1983/84 to 2013/14
The New Zealand Treasury – Christopher Ball and John Creedy, June 2015
An overview of New Zealand's Housing
Child Poverty Action Group – Alan Johnson, May 2015
Mixed Fortunes – The Geography of Advantage and Disadvantage in New Zealand
The Salvation Army – Alan Johnson, May 2015
On a Plate
The Wireless – Toby Morris, May 2015
"Goldblog" Searches related to poverty
Paul Goldsmith – 2015
Working for Families Changes: The effect on the labour supply in New Zealand
The New Zealand Treasury – Penny Mok and Joseph Mercante, November 2014
The Role of Value Judgements in Measuring Inequality
The New Zealand Treasury – John Creedy and Jesse Eedrah, November 2014
Our children, our choice: priorities for policy
Child Poverty Action Group – Edited by M. Claire Dale, Mike O'Brien and Susan St John, September 2014
Te Kupenga 2013
Statistics New Zealand – May 2014
Download here
Society at a Glance 2014 Highlights: New Zealand OECD Social Indicators
OECD – March 2014
Child Poverty in New Zealand: Building on progress to date
Expert Advisory Group on Child Poverty – October 2013
Government Response to the Children's Commissioner's Expert Advisory Group on Solutions to Child Poverty
Beehive – May 2013
Solutions to Child Poverty in New Zealand – Evidence for Action
Children's Commission – Expert Advisory Group, December 2012
Report of an investigation into defining a living wage for New Zealand
Family Centre Social Policy Research Unit – Peter King and Charles Waldegrave, December 2012
Reducing Child Poverty in Māori Whānau
Solutions to Child Poverty – Expert Advisory Group, August 2012
Public Perceptions of Poverty and Social Exclusion: Final Report on Focus Group Findings
Poverty and Social Exclusion in the UK research project – Eldin Fahmy, Simon Pemberton and Eileen Sutton, August 2012
Inquiry into the determinants of wellbeing for Māori children
Child Poverty Action Group – 2012
2010: The Social Report
Ministry of Social Development – October 2010
Report and Data
Poverty, Income Inequality and Health
The New Zealand Treasury – Ken Judge and Iain Paterson, January 2001