TalentNZ
Contributing to Sir Paul Callaghan's vision of making New Zealand 'a place where talent wants to live'
Frequently Asked Questions
TalentNZ is a McGuinness Institute project that aims to contribute to Sir Paul Callaghan's vision of making New Zealand 'a place where talent wants to live' by testing his assumptions and exploring ways New Zealanders might turn this vision into reality. Sir Paul outlined the reasons why his vision is important in a 20-minute video (see below) filmed at the Institute's StrategyNZ workshop (held at Te Papa in 2011).
This project page can be used as a portal to our other project pages, all of which aim to help New Zealand become a place where talent wants to live. Feel free to contact us if you have any questions.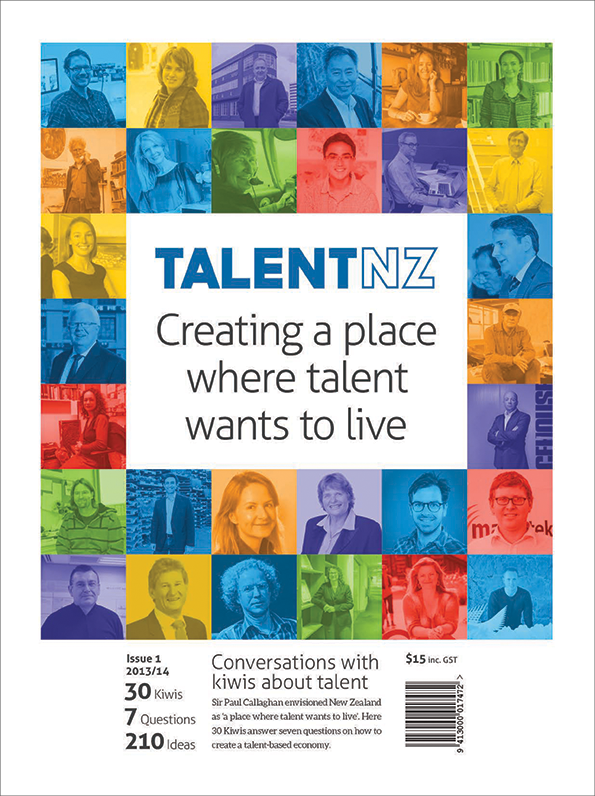 For a full list of TalentNZ publications see the 'Publications by date' page and search TalentNZ or use the 'Policy Project Type' filter in the table.
SupplyNZ: Winning the war against COVID-19 (March, 2020)
In March 2020, in response to the COVID-19 pandemic, the McGuinness Institute created SupplyNZ: Winning the war against COVID-19. While hopeful that New Zealand's lockdown strategy will work, we feel it is important to build New Zealand's connections and capabilities now in case the nationwide lockdown is not enough to stop the spread of the virus, and results in gaps in supply chains.
We welcome makers, purchasers and suppliers of healthcare products as well as organisations or individuals with production capabilities (e.g. raw materials, bulk fabric or 3-D printing) and/or time to fill out the registration form to be placed on the SupplyNZ Register.
Welcome to the TalentNZ Menu of Initiatives. The Menu is designed to invite discussion and reflection over a range of possible initiatives to attract talented individuals to live and work in New Zealand, and is a part of the McGuinness Institute project TalentNZ.
As we continue to work on the TalentNZ project we are constantly finding new resources that provide a fascinating insight into the emerging discourse on talent. We have organised the resources under the headings Grow, Attract, Retain and Connect, reflecting the four main pillars that were identified as essential for creating a talent-based economy. Please note that many of the resources below cover more than one pillar.
For those interested in measuring talent we highly recommend the report The Global Talent Competitiveness Index 2013 by Bruno Lanvin & Paul Evans (eds) – see the video of the authors here – The World's Most Talent Competitive Countries (November 26, 2013). We also recommend Investigating New Zealand-Australia productivity differences: New comparisons at industry level by the New Zealand Productivity Commission as a useful resource in terms of measuring talent.
If you are aware of any interesting resources you would like to share, please get in touch.
Connect Talent resources
Books, Articles, Reports and Websites
Short Guide to a Long Life (Agus, 2014)
If Mayors Ruled the World: Dysfunctional nations, rising cities (Barber, 2013)
Redesigning Cities, (Barnett, 2008)
The Year Without Pants (Berkun, 2013)
Quiet: The Power of Introverts in a World that Can't Stop Talking, (Cain, 2013)
Wool to Weta (Callaghan, 2009)
Remote (Fried & Heinemeier, 2013)
Triumph of the City (Glaser, 2012)
Get off the Grass (Hendy & Callaghan, 2013)
Cities are Good for You (Hollis, 2013)
Smart Talk (Marshall, 2013)
Positive Linking (Ormerod, 2012)
The Death and Life of Great American Cities (Jacobs, 1961)
Antifragile (Taleb, N. N., 2012)
Dot Complicated: How to make it through life online in one piece (Zuckerberg, 2013)
Creating a 'Corporate University' for a Major Bank (Boston Consulting Group, n.d.)
The use of narrative to understand and respond to complexity (Browning & Boudes, 2005)
Don't Become Another Statistic (Business.govt.nz, 2012)
The social economy: Unlocking value and productivity through social technologies (Chui, et al., July 2012)
Smarter Cities for Smarter Growth, (Dirks, et al., 2010)
Narrative Patterning: Alternate History and Fragmented Narrative (Goh, 4 April 2012)
UK Science and Innovation Network: Working with New Zealand (Gov.uk, 10 July 2013)
growwellington.co.nz (Grow Wellington, n.d.)
Coffee and Jam sessions mark first birthday (Harve, 9 December 2013)
Brain-to-brain coupling: A Mechanism for Creating and Sharing a Social World (Hasson et al., 2011)
As Amazon Stretches, Seattle's Downtown is Reshaped (Johnson & Wingfield, 25 August 2013)
keanewzealand.com (KEA New Zealand, n.d)
Design as a Discipline (Kunkel, n.d.)
New Zealand Core Cities Project (LGNZ & MBIE, 2014)
The 10 Traits of Globally Fluent Metro Areas (McDearman, 2013)
rethinklondon.ca (Rethink London, n.d.)
The Rockefeller Foundation Annual Report, 1957 (Rockefeller Foundation, 1957)
The Open Talent Economy: Beyond Corporate Borders to Talent Ecosystems (Schwartz, July 2013)
siliconroundabout.org.uk (Silicon Roundabout, n.d.)
Narrative Patterns: The Perils and Possibilities of Using Story in Organisations, (Snowden, 2005)
A Leader's Framework for Decision Making (Snowden & Boone, November 2007)
thegatheringireland.com (The Gathering, n.d.)
Insights: The CEO's Talent Agenda (The Talent Strategy Group, 2014)
A More Holistic Approach to Talent (Volz, 24 February 2014)
Smart Cities: Do You Want to Live in a Smart City (Wakefield, 18 August 2013)
Wynyard Quarter Innovation Precinct (Waterfront Auckland, n.d.)
Grow Talent resources
Books, Articles, Reports and Websites
Makers: The New Industrial Revolution (Anderson, 2012) 
The Spark: A Mothers Story of Nurturing Genius (Barnett, 2013)
Brain Wars (Beauregard, 2013)
My Stroke of Insight (Bolte Taylor, 2008)
Tap Dancing to Work: On Practically Everything,1966-2013 (Buffett, 2012)
Finding the Next Steve Jobs: How to Find, Keep and Nurture Creative Talent (Bushnell & Stone, 2013)
Luminous Moments (Callaghan, 2014)
Can 10,000 Hours of Practice Make You an Expert? (Carter, 1 March 2014)
The Triple Package: What Really Determines Success (Chua & Rubenfeld, 2014)
Focus: The Hidden Driver of Excellence (Coleman, 2013) 
Decode.org.nz (Decode, n.d.)
Communication from the Commission Europe 2020: A Strategy for Smart, Sustainable and Inclusive Growth (European Commission, 3 March 2010)
Pieces of Light: The new science of memory (Fernyhough, 2013)
Intelligence and Human Progress: The story of what was hidden in our genes (Flynn, 2013)
Applying Lean Startup Thinking to Managing Talent (Forbes, 20 June 2012)
Corporate Universities: An Emerging Threat to Graduate Business Education (Forbes, 22 January 2013)
GlobalCCU.com (GlobalCCU, n.d.)
Seeing What Others Don't: The remarkable ways we gain insights(Klein, 2013)
Mastermind (Konnikova, 2013)
Damn Good Advice (for people with talent!) (Lois, 2012)
Microsoft Research working with IT HOTHOUSE to create tech savy student entrepreneurs with support from BizSpark (Mackie, 17 July 2013)
Kiwi Employess Struggling to Find Staff (McCracken, 28 May 2013)
Working Paper 2013/03: Exploring Talent (McGuinness Institute, 2013)
Think Piece 18: 'For me it is not enough' (McGuinness, 2013)
Lifelong Impact of Early Self-Control (Moffit, Poulton & Caspi, 2013)
Investigating New Zealand-Australia Productivity Differences: New Comparisons at Industry Level (New Zealand Productivity Commission, 19 December 2010)
Ecoman: From a garage in Northland to a pioneering global brand (Rands, 2013)
Inequality: A New Zealand in Crisis (Rashbrooke, 2013)
Unnatural Selection: Why the geeks will inherit the earth (Roeder, 2013)
Young Programmer Tells us about his New Project: Decode (Silver, September 4 2013)
Teenagers jumping into IT (Seven Sharp, 15 April 2013)
The True American Dream (Sotomayor, 2011)
The Future of Work, Jobs and Skills (UK Commission for Employment and Skills, University of South Wales, Z-Punkt, 2014)
Is it Good for People to Fail Occasionally? (Wallis, 3 March 2014)
Investment in Global Education (Winthrop et al., September 2013)
Attract Talent resources
Books, Articles, Reports and Websites
Retain Talent resources
Books, Articles, Reports and Websites
City Demographics resources
Books, Articles, Reports and Websites