As part of the follow-up to the 2016 TacklingPovertyNZ workshop tour, we will be posting one blog a day over the next few weeks to accompany the workshop speaker videos published on our YouTube channel.
Watch Leighton Evans, General Manager of Eastland Community Trust (ECT), discuss the work that ECT undertakes and why at the one-day TacklingPovertyNZ Gisborne workshop on 31 August 2016 in the video below.
The ECT is a local energy trust whose vision is to create a more positive, prosperous and attractive community. They contribute to reducing inequality and increasing the choices available for people in the community by supporting initiatives from businesses and the community that are likely to encourage and sustain economic growth within the district. Leighton sees ECT as a critical component of tackling poverty in Gisborne but also recognises that they are only one piece of the puzzle.
Leighton spoke about two key themes in his presentation:
1. Employment: Recently, the ECT has been funding a number of programmes that focus on empowering the local community to come up with their own solutions to raise employment rates in the region. The ECT believes that employment creates choices and self-determination, restores mana, and ensures that families are able to focus on their own future. Although the ECT believes in empowering the local community, it also recognises the need for intervention to lift Gisborne's economic performance and accelerate growth.
2. Education: Leighton spoke about the findings of the TacklingPovertyNZ 2015 workshop booklet, agreeing that improving education will not come from a one-size-fits-all solution and noting that each community needs something different. The research undertaken by the ECT suggests that people with higher education feel a stronger sense of belonging and of having freedom of choice and control over their future. Further, Leighton made observations of the disparity between what students need and what they are receiving in terms of both support and education. He also noted the strong links between quality and level of education and corresponding socio-economic outcomes.
Leighton concluded his presentation by calling for leadership with the following questions to participants: 'Who wakes up every day thinking about this problem? … Who wakes up every day saying "my job is to tackle this problem"? … Who is accountable?'
About the TacklingPovertyNZ 2016 tour
The 2016 tour was a response to a 2015 three-day workshop that brought together 36 participants aged 18 to 25 representing a diverse range of backgrounds from throughout New Zealand. Participants found that 'assuming that one solution will work everyone indicates a failure to address cultural disparities and injustices, and an ignorance of the diversity of our population'. The purpose of the 2016 tour was to build and share ideas on how to tackle poverty, come up with local solutions and connect like-minded people within communities.
The Gisborne workshop was one of six, along with workshops in Queenstown, Manawatu, Rotorua, Kaitaia and Kaikohe. A discussion paper for each area visited has been published on our website. These papers are specific to each community and together form a series showcasing insights from individuals who attended a one-day workshop in their local community.

To learn more about the tour, read Working Paper 2017/01 – TacklingPovertyNZ 2016 Tour: Methodology, results and observations here. This paper brings all the outputs from the six workshops together and aims to illustrate the diverse range of challenges and opportunities existing in communities.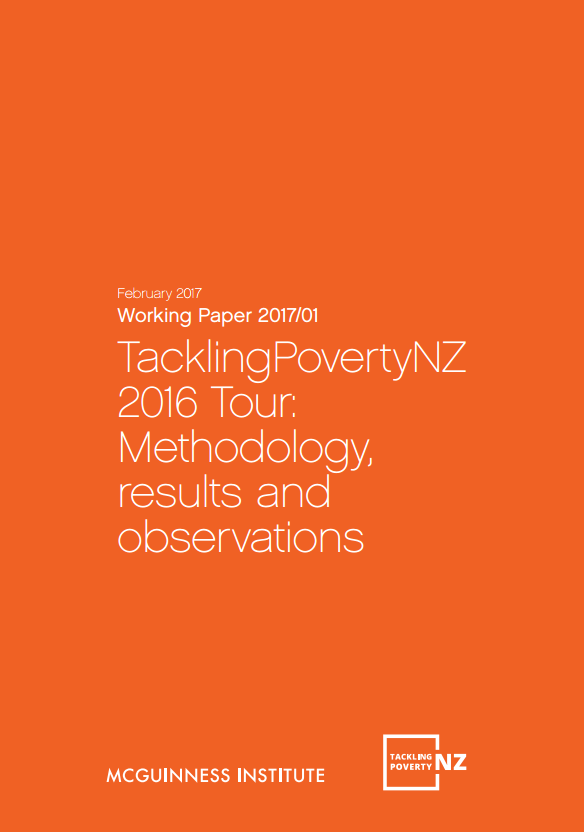 In 2017 we would like to build on these findings. There was a lot to learn and digest, and we are still working through what this means in terms of public policy.
To stay up to date with Project TacklingPovertyNZ, subscribe to the newsletter here.