As part of the follow-up to the 2016 TacklingPovertyNZ workshop tour, we will be posting one blog a day over the next few weeks to accompany the workshop speaker videos published on our YouTube channel.
Watch Linda Coulston, Manager of SuperGrans Tairāwhiti Trust, speak to participants about what SuperGrans Tairāwhiti provides and share her ideas on how to tackle poverty in the region at the one-day Gisborne TacklingPovertyNZ workshop on 31 August 2016 in the video below.
SuperGrans holds free workshops called 'transformative life skills' in the Gisborne community that aim to build confidence and demonstrate how cost effective it can be to grow and cook your own food. SuperGrans also brings together support from a range of other agencies such as IRD, the Ministry of Education, law centres, drug and alcohol specialists, budgeting educators, mental health specialists and even rheumatic fever specialists. Last year, they had 1300 people through their doors, highlighting the need for these services in Gisborne. SuperGrans stay in touch with whānau for a year after initial contact to provide ongoing support and ensure they don't 'fall off the horse'. Linda mentioned that as a grassroots organisation, the bureaucracy of funding and accountability proposals forms an obstacle for SuperGrans, straining time and energy that is already in demand by a number of other people.
Linda presented two ideas from her experience with SuperGrans on how to tackle poverty in Gisborne:
1. We need to ensure that whānau are supported and given tools to reduce their risk of vulnerability.
Linda explains that whānau must be able to reduce their vulnerability and increase their resilience. However addressing one or the other in isolation will not produce change. If whānau are too vulnerable, they won't be able to build the resilience needed to create positive change.
When SuperGrans provides their services, they create a plan by asking: what is happening? Where are you from? Why aren't you coping? What can we do to help? From this standpoint, they can work with the whānau to write their story into a more positive one.
2. We need to ensure that vulnerable people have the skills to self-manage and the confidence to pursue their aspirations.
This goal can only be achieved with collective collaboration, looking locally at the real issues and collectively addressing them.
Te Puni Kōkiri (Ministry of Māori Development) have been getting a group together to work through these issues comprising of a mixture of decile one schools and Hauiti Centre of Excellence, as well as SuperGrans. The group has been working on a framework to make positive change for whānau, specifically looking into addressing financial and nutritional literacy.
Linda closed by explaining that if you lift up the health of the most vulnerable, you lift up the health of the whole region. We need to be investing in targeted public health and social service interventions that actually work. This would be the most cost effective use of resources in terms of health and social gains.
About the TacklingPovertyNZ 2016 tour
The 2016 tour was a response to a 2015 three-day workshop that brought together 36 participants aged 18 to 25 representing a diverse range of backgrounds from throughout New Zealand. Participants found that 'assuming that one solution will work everyone indicates a failure to address cultural disparities and injustices, and an ignorance of the diversity of our population'. The purpose of the 2016 tour was to build and share ideas on how to tackle poverty, come up with local solutions and connect like-minded people within communities.
The Gisborne workshop was one of six, along with workshops in Queenstown, Manawatu, Rotorua, Kaitaia and Kaikohe. A discussion paper for each area visited has been published on our website. These papers are specific to each community and together form a series showcasing insights from individuals who attended a one-day workshop in their local community.

To learn more about the tour, read Working Paper 2017/01 – TacklingPovertyNZ 2016 Tour: Methodology, results and observations here. This paper brings all the outputs from the six workshops together and aims to illustrate the diverse range of challenges and opportunities existing in communities.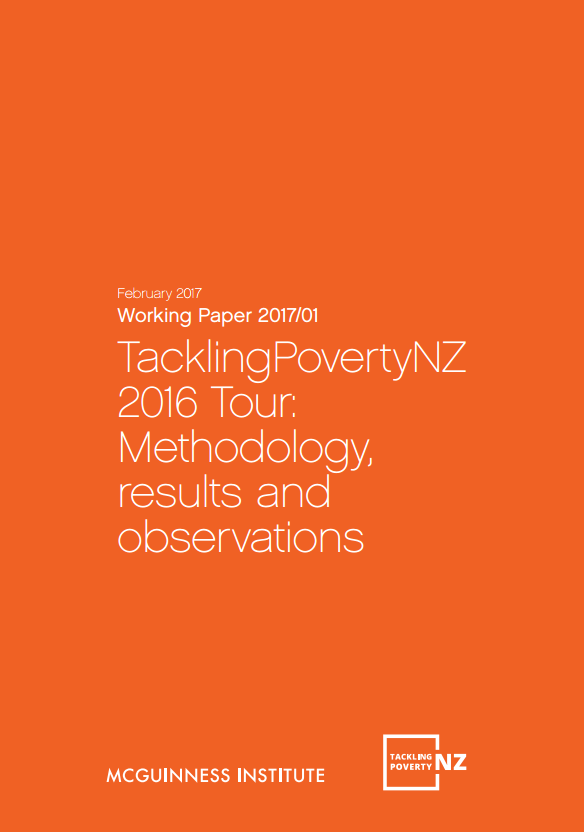 In 2017 we would like to build on these findings. There was a lot to learn and digest, and we are still working through what this means in terms of public policy.
To stay up to date with Project TacklingPovertyNZ, subscribe to the newsletter here.