As part of the follow-up to the 2016 TacklingPovertyNZ workshop tour, we will be posting one blog a day over the next few weeks to accompany the workshop speaker videos published on our YouTube channel.
Watch Mark Anderson, Chair of the Kaikohe Business Association, discuss business and education at the Kaikohe TacklingPovertyNZ one-day workshop on 16 September 2016 in the video below.
Mark shared three key ideas:
1. Big box retail kills provincial towns – he asserted that retail chains, such as the Warehouse, have done enormous damage to the retail and economic fabric of towns like Kaikohe. Locally owned businesses who kept the profits in town have been driven out of business. Mark argued that the benefits of the perceived increase in consumer choice is greatly outweighed by the empty shops, higher unemployment and the fact that nothing you buy can get fixed locally. Currently in Kaikohe, three of the four largest businesses in town are on the Australian and New Zealand stock-market. Mark put the question to participants, 'how can those shareholder have our interests at heart?' The current structure erodes local territorial powers; therefore, he argued that if 'the big guys' want to come into town, it should be on the community's terms.
2. Educational refugees – families leave Northland after primary school because of the quality of secondary schooling. Mark outlined how families with sufficient means and a strong interest in their kids' education are the ones motivated to chase the good schooling, changing the composition of the community. He explained how a 'healthy community is made up with people from all walks of life with different levels of means'.
3. The Ministry of Education allows schools to become so run down that they become almost unsalvageable – Mark questions whose responsibility at the Ministry of Education it is to intervene and why this is done when it's almost too late. He asks 'why weren't alarm bells rung when the Northland College roll dropped by over 50%?' He argued that the Ministry is paralysed by indecision and too risk-averse. We need to change decision making and spending in schools – funding shouldn't be a concern when a school is trying to get back on its feet.
Mark also shared his suggestion that te reo Māori be compulsory in schools as it 'enriches one's life in ways that are often hard to explain' and positively influences decision making. He closed by saying 'there is a better way, it starts with allowing our communities to make more decisions about stuff that happens in their own patch'.
About the TacklingPovertyNZ 2016 tour
The 2016 tour was a response to a 2015 three-day workshop that brought together 36 participants aged 18 to 25 representing a diverse range of backgrounds from throughout New Zealand. Participants found that 'assuming that one solution will work everyone indicates a failure to address cultural disparities and injustices, and an ignorance of the diversity of our population'. The purpose of the 2016 tour was to build and share ideas on how to tackle poverty, come up with local solutions and connect like-minded people within communities.
The Kaikohe workshop was one of six, along with workshops in Queenstown, Manawatu, Rotorua, Gisborne and Kaitaia. A discussion paper for each area visited has been published on our website. These papers are specific to each community and together form a series showcasing insights from individuals who attended a one-day workshop in their local community.

To learn more about the tour, read Working Paper 2017/01 – TacklingPovertyNZ 2016 Tour: Methodology, results and observations here. This paper brings all the outputs from the six workshops together and aims to illustrate the diverse range of challenges and opportunities existing in communities.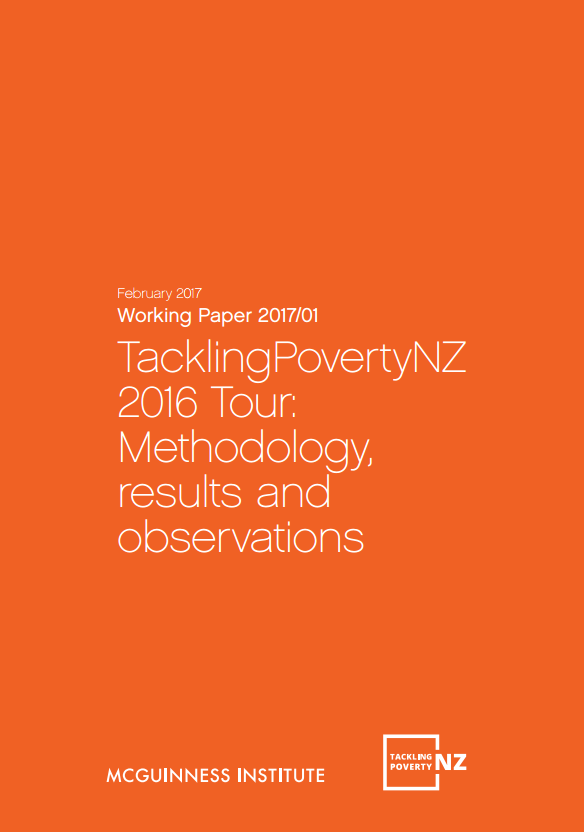 In 2017 we would like to build on these findings. There was a lot to learn and digest, and we are still working through what this means in terms of public policy.
To stay up to date with Project TacklingPovertyNZ, subscribe to the newsletter here.