As part of the follow-up to the 2016 TacklingPovertyNZ workshop tour, we will be posting one blog a day over the next few weeks to accompany the workshop speaker videos published on our YouTube channel.
Watch Natasha Allan, Detective Senior Sergeant and the national coordinator for Child Protection in New Zealand, share her thoughts on child poverty and child abuse in New Zealand at the one-day Manawatu TacklingPovertyNZ workshop on 15 August 2016 in the video below.
Natasha is part of the National Sexual Violence and Child Protection Team, through which she provides advice and support for applying New Zealand's policy. She is also in charge of the national training programme for child abuse investigators and supervisors and is working on the Investing in Children Programme.
Natasha spoke to participants about three key points:
Why was the National Sexual Violence and Child Protection Team needed? – The team was set up in response to a review conducted by the Independent Police Conduct Authority (IPCA) in 2010. The review looked at case management of child abuse incidents and made 34 recommendations. IPCA argued that there has been little or no progress in child abuse investigations since the initial report of 2010 and the National Sexual Violence and Child Protection Team was created in 2012 to ensure ongoing improvements throughout New Zealand. IPCA highlighted ongoing intergenerational abuse and Natasha asserts that this report showed how police had let the most 'at risk' children in the communities down.
The link between child abuse and poverty – Natasha contends that 'a lot of people who are in poverty do not abuse their children', however she outlines some cases where this link does play a part. Natasha states that New Zealand has the 5th worst child abuse record out of 31 OECD countries – on average, one child is killed every five weeks, most of whom are under five years-old, the largest group of these being under 1 year-old. According to Natasha, many of these homicides occur in a family environment and follow sustained neglect and abuse.
What can you do as a community? – Natasha argues that we are all responsible for 'at risk' children. However, societal attitudes can change with sustained attention and can ultimately reduce child abuse. Natasha contends that managing the factors that make parenting harder can help reduce child abuse (for example, by offering services that actually engage with parents and their needs). We also need to educate our communities to speak up when they have concerns about a child or family, and we need to educate and help families seek out support when they are no longer coping.
Natasha left participants with a challenge: develop an educational plan using a collective-impact approach to get this message out to the Manawatu community.
About the TacklingPovertyNZ 2016 tour
The 2016 tour was a response to a 2015 three-day workshop that brought together 36 participants aged 18 to 25 representing a diverse range of backgrounds from throughout New Zealand. Participants found that 'assuming that one solution will work everyone indicates a failure to address cultural disparities and injustices, and an ignorance of the diversity of our population'. The purpose of the 2016 tour was to build and share ideas on how to tackle poverty, come up with local solutions and connect like-minded people within communities.
The Manawatu workshop was one of six, along with workshops in Queenstown, Rotorua, Gisborne, Kaitaia and Kaikohe. A discussion paper for each area visited has been published on our website. These papers are specific to each community and together form a series showcasing insights from individuals who attended a one-day workshop in their local community.

To learn more about the tour, read Working Paper 2017/01 – TacklingPovertyNZ 2016 Tour: Methodology, results and observations here. This paper brings all the outputs from the six workshops together and aims to illustrate the diverse range of challenges and opportunities existing in communities.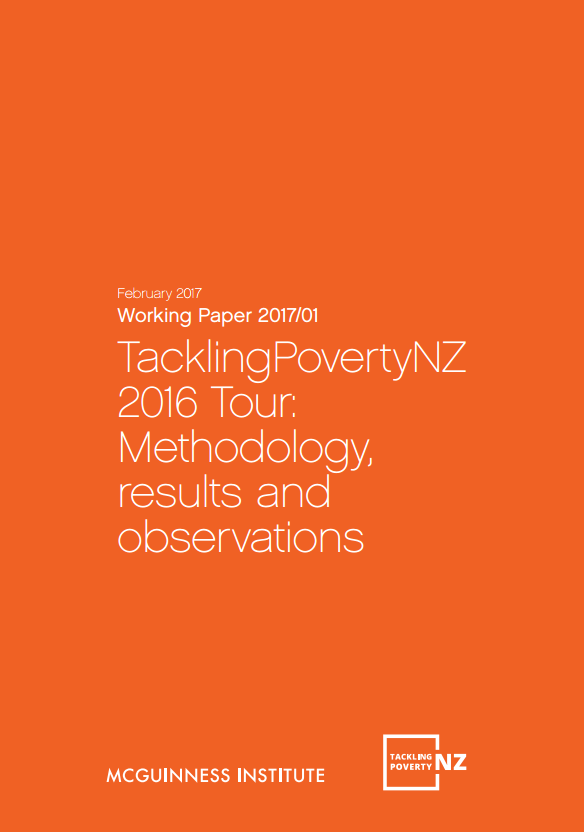 In 2017 we would like to build on these findings. There was a lot to learn and digest, and we are still working through what this means in terms of public policy.
To stay up to date with Project TacklingPovertyNZ, subscribe to the newsletter here.