As part of the follow-up to the 2016 TacklingPovertyNZ workshop tour, we will be posting one blog a day over the next few weeks to accompany the workshop speaker videos published on our YouTube channel.
Watch Kathryn Cook, Chief Executive Officer of the MidCentral District Health Board, share her thoughts on the importance of health and wellbeing at the one-day Manawatu TacklingPovertyNZ workshop on 15 August 2016 in the video below.
Kathryn spoke to participants about how poverty can lead to poor health and poor health may also lead to poverty. The issues that cause people in poverty to have poor health are not always the complex issues. People may live in houses that are well insulated, warm and dry, but fall ill because they only have one set of sheets and no washing machine.
Health issues that lead to poverty are often much more complex. Chronic diseases, mental health issues, and social isolation are some of the leading causes/symptoms of poverty. Kathryn spoke of how health is a crucial – but often forgotten – element of poverty.
To achieve our goal of tackling poverty, Kathryn believes we must change our strategy. We must rigorously measure and evaluate investment benefits to support a case for on-going investment and sustainable change. Investment benefits are not always right the first time and we must create cycles of improvement. It is also imperative that we do not stop and start programmes.
Kathryn left participants with a quote from the World Bank report, Dying for change: Poor people's experience of health and ill-health: 'As good health is crucial to protect the family from poverty, so better health is central to poverty reduction. Improving the health of the poor must become a priority, not only for public health but also for other sectors of development – economic, environmental and social.' 
About the TacklingPovertyNZ 2016 tour
The 2016 tour was a response to a 2015 three-day workshop that brought together 36 participants aged 18 to 25 representing a diverse range of backgrounds from throughout New Zealand. Participants found that 'assuming that one solution will work everyone indicates a failure to address cultural disparities and injustices, and an ignorance of the diversity of our population'. The purpose of the 2016 tour was to build and share ideas on how to tackle poverty, come up with local solutions and connect like-minded people within communities.
The Manawatu workshop was one of six, along with workshops in Queenstown, Rotorua, Gisborne, Kaitaia and Kaikohe. A discussion paper for each area visited has been published on our website. These papers are specific to each community and together form a series showcasing insights from individuals who attended a one-day workshop in their local community.

To learn more about the tour, read Working Paper 2017/01 – TacklingPovertyNZ 2016 Tour: Methodology, results and observations here. This paper brings all the outputs from the six workshops together and aims to illustrate the diverse range of challenges and opportunities existing in communities.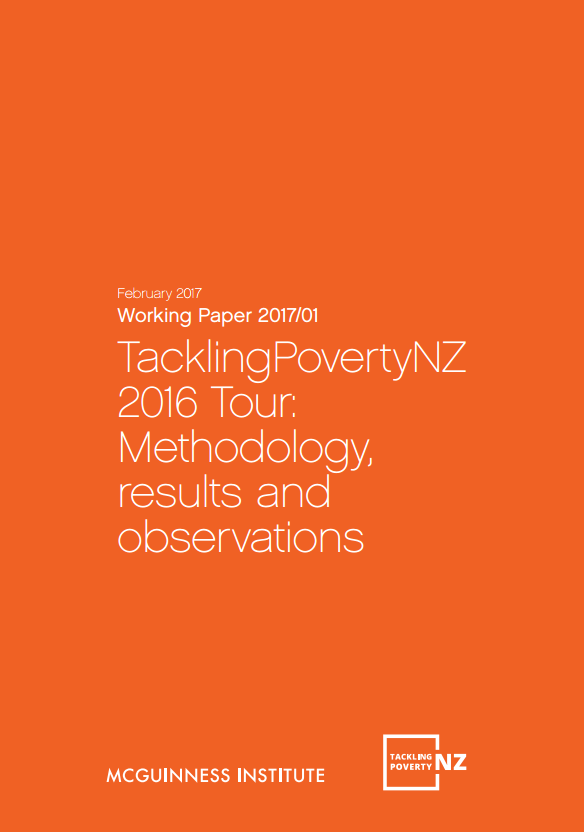 In 2017 we would like to build on these findings. There was a lot to learn and digest, and we are still working through what this means in terms of public policy.
To stay up to date with Project TacklingPovertyNZ, subscribe to the newsletter here.