As part of the follow-up to the 2016 TacklingPovertyNZ workshop tour, we will be posting one blog a day over the next few weeks to accompany the workshop speaker videos published on our YouTube channel.
Watch Judge Louis Bidois share his ideas on how to overcome poverty at the one-day Rotorua TacklingPovertyNZ workshop on 19 August 2016 in the video below.
Louis opened his presentation by urging us to stop stereotyping people in poverty – they are victims of society and should not be blamed. He shared his concerns about the growing pace of poverty in the last one and a half generations. In the past, people may have been in poverty but one's wellbeing was considered good, whereas now the community as a whole is much more depressed. He argued that we don't share the whānau time we used to through activities such as sitting around the table for dinner or doing the dishes together. Louis highlighted that poverty goes beyond the material – being hungry or homeless – and that 'it extends to poverty of spirit, poverty of hope, poverty of opportunity and poverty of cultural identity'.
Louis discussed three themes: strengthening unions and protectionism, increasing regulatory control and making changes to the electoral system.
He acknowledged that many might see the first two themes as going backwards but he said 'we need to go backwards to where we were 30-40 years ago, to improve the quality of our life back to grassroots.' He outlined the negative impact that weakening unions through statutory reform has had on workers.
Louis then turned to companies and their paradigm shift from employer and employee to contractor and subcontractor: companies solely focus on profit, not people. The culture of subcontracting is to avoid paying an hourly wage. Examples include farming, fruit and fishing industries hiring migrants as subcontractors. He then argued it doesn't make sense that it is more expensive for us to buy New Zealand products than it is abroad – 'something must be wrong'.
Louis shared his thoughts on the current electoral system and argued that we should remove party politics from local councils to prevent good initiatives that go against the party line from being rejected. Councils need to be concerned with community spirit. For example, people on community probation could be mowing lawns, painting houses and cleaning up to restore a sense of pride. Louis closed his presentation by calling for a fundamental change in how we think and asserting future discussions on tackling poverty in New Zealand need to continue focusing on wellbeing and quality of life.
About the TacklingPovertyNZ 2016 tour
The 2016 tour was a response to a 2015 three-day workshop that brought together 36 participants aged 18 to 25 representing a diverse range of backgrounds from throughout New Zealand. Participants found that 'assuming that one solution will work everyone indicates a failure to address cultural disparities and injustices, and an ignorance of the diversity of our population'. The purpose of the 2016 tour was to build and share ideas on how to tackle poverty, come up with local solutions and connect like-minded people within communities.
The Rotorua workshop was one of six, along with workshops in Queenstown, Manawatu, Gisborne, Kaitaia and Kaikohe. A discussion paper for each area visited has been published on our website. These papers are specific to each community and together form a series showcasing insights from individuals who attended a one-day workshop in their local community.

To learn more about the tour, read Working Paper 2017/01 – TacklingPovertyNZ 2016 Tour: Methodology, results and observations here. This paper brings all the outputs from the six workshops together and aims to illustrate the diverse range of challenges and opportunities existing in communities.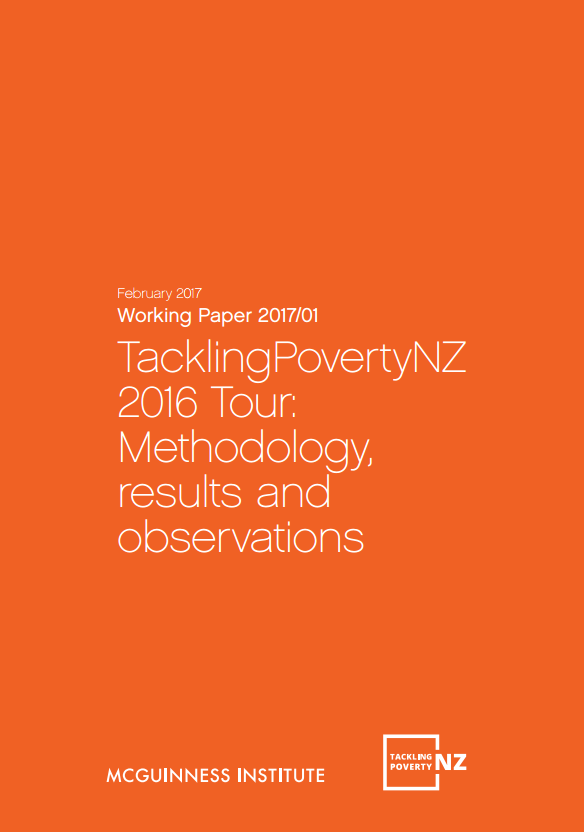 In 2017 we would like to build on these findings. There was a lot to learn and digest, and we are still working through what this means in terms of public policy.
To stay up to date with Project TacklingPovertyNZ, subscribe to the newsletter here.