As part of the follow-up to the 2016 TacklingPovertyNZ workshop tour, we will be posting one blog a day over the next few weeks to accompany the workshop speaker videos published on our YouTube channel.
Watch Potaua Biasiny-Tule, member of Te Tatau o Te Arawa, share his perspective on the changing mentality of poverty at the one-day Rotorua TacklingPovertyNZ workshop on 19 August 2016 in the video below.
Potaua shared his story of Rotorua as a tale of two cities. While tourism, business, forestry and farming flourish; the rest of the people are denied access to the benefits and the pace of poverty is accelerating. He outlined key events that have had an impact on Rotorua and contributed to poverty in the district. He discussed the lasting impacts of colonisation on the Māori community – 'traumatic psychological imprint of what happened to our old people… what happened there really impacts what is happening today'. He reminded us that it was the eruption of Mt Tarawera that brought tourism to the Rotorua District, which changed the way people lived. When the Labour Government sold Rotorua forests, the mass unemployment that followed shook the Rotorua community, sparking a period of violence and deepening cultural poverty.
Potaua reflected on the material poverty as well as cultural poverty: 'Poverty for me was fun because; when you don't know, you don't know'. Whereas now, 'many of us have broken wairua, we are poor on love'. He shared what his father told him about the new generations:
You don't have love for yourself and because you don't have love for yourself, you actually have no appreciation for who you are. Once you know who you are and where you come from, you can stand anywhere in the world. But because you don't know who you are and where you're from, no matter where you go, you'll always be impoverished in mind.
Potaua shared a metaphor for society's reaction to troubled youth:
'Often we blame the trees; we blame the young shrub and not the forest, because we are all a global forest. Too often we are like "that tree, cut it down; that little tree, stomp it out". When the forest has to take more responsibility for how each young tree is nurtured and supported.'
He called for action in developing leadership to ensure local voices are heard at the tables of influence where they are currently denied access. 'Rotorua is a crossroad of needs but it's also a crossroad of leadership and solutions.' Potaua closed his presentation saying 'poverty was fun, poverty is pain. Let's get some solutions today and make these solutions viral to the country'.
About the TacklingPovertyNZ 2016 tour
The 2016 tour was a response to a 2015 three-day workshop that brought together 36 participants aged 18 to 25 representing a diverse range of backgrounds from throughout New Zealand. Participants found that 'assuming that one solution will work everyone indicates a failure to address cultural disparities and injustices, and an ignorance of the diversity of our population'. The purpose of the 2016 tour was to build and share ideas on how to tackle poverty, come up with local solutions and connect like-minded people within communities.
The Rotorua workshop was one of six, along with workshops in Queenstown, Manawatu, Gisborne, Kaitaia and Kaikohe. A discussion paper for each area visited has been published on our website. These papers are specific to each community and together form a series showcasing insights from individuals who attended a one-day workshop in their local community.

To learn more about the tour, read Working Paper 2017/01 – TacklingPovertyNZ 2016 Tour: Methodology, results and observations here. This paper brings all the outputs from the six workshops together and aims to illustrate the diverse range of challenges and opportunities existing in communities.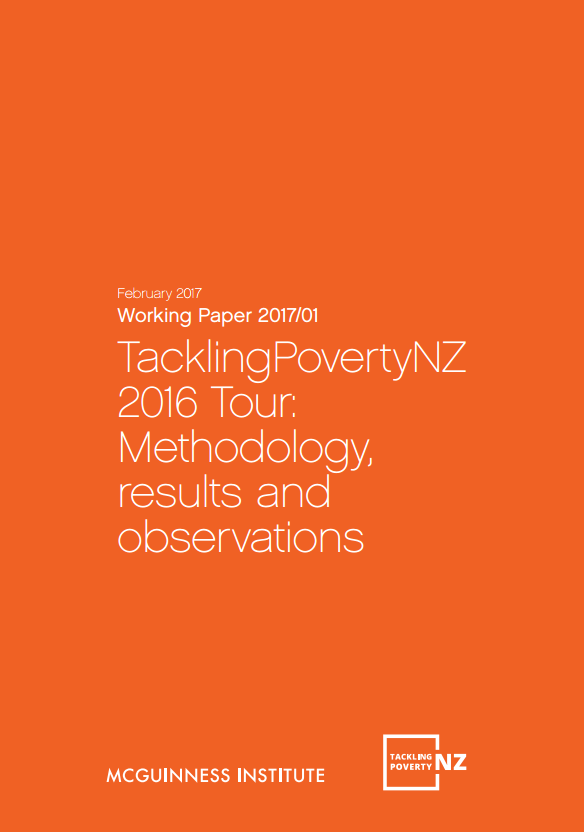 In 2017 we would like to build on these findings. There was a lot to learn and digest, and we are still working through what this means in terms of public policy.
To stay up to date with Project TacklingPovertyNZ, subscribe to the newsletter here.