Dr Girol Karacaoglu, then Chief Economist at the New Zealand Treasury, shares the Treasury's policy framework around poverty at the TacklingPovertyNZ one-day workshop in Rotorua on 19 August 2016. You can watch the video of his presentation on the McGuinness Institute's YouTube channel, or you can view it below.
Girol shared the purpose of public policy: to help people live the kinds of lives they have reason to value by increasing their opportunities and capabilities, and incentives, to contribute to economic and social life, and benefit from their contributions. He explained how this shift has moved policy away from being solely focused on economic growth to reflect what people care about: their overall wellbeing. The Treasury have 10 indicators for measuring living standards, with one indicator being income. Girol discussed how this is reflected in the Treasury's Living Standards framework, which aims to maximise intergenerational well being through investing in society's four Capitals; Natural, Social, Human and Economic. He explained how building these Capitals are important for resilience, social cohesion, sustainability, equity and economic growth in our communities and nation.
Girol shared the Policy Triangle for a Wellbeing State (see below) which shows that whatever we do, it needs to be based on our own history, culture and values as unique to New Zealand. In addition, to ensure people have the capabilities and opportunities, each level of the triangle needs to be assured.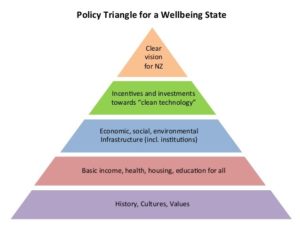 Girol acknowledged that the answers to tackling poverty are not in Wellington, they are in the communities. Government need to provide mechanisms for local solutions to feed back into an integrated system so we can identify and action ideas that work. He shared the example of Pasifika Futures in Auckland, which links central government funding to local initiatives with a strict outcome focus: if the promised outcome is not achieved, central government get their money back and a new initiative is actioned. This is the direction policy is heading, but there is a long way to go. Girol closed by calling for integration between services in communities, with central government playing a supporting role.
About the TacklingPovertyNZ 2016 tour
In December 2015, the McGuinness Institute undertook a three-day workshop in collaboration with the New Zealand Treasury. Its purpose was to explore ways to reduce poverty in New Zealand. This workshop has led to a number of outputs, one of which was a tour of one-day workshops around New Zealand throughout 2016. The purpose of the tour was to build and share ideas on how to tackle poverty, come up with local solutions and connect like-minded people within communities.
The Rotorua workshop was one of six, along with workshops in Queenstown, Manawatu, Gisborne, Kaitaia and Kaikohe. A discussion paper for each area visited has been published on our website. These papers are specific to each community and together form a series showcasing insights from individuals who attended a one-day workshop in their local community.

In addition, the mayors from each council met with the then Minister of Finance, Hon Bill English to discuss the outputs of the workshops, which led to the Demarcation zones for public policy innovation proposal sent to the Prime Minister, the Rt Hon Bill English, on 21 December 2016. The proposal calls for the establishment of demarcation zones, which will isolate and separate an area from existing rules to make space for new rules to be implemented that are fit for the specific community they serve – decentralising economic and social governance. This instrument of public policy reform aims to tackle poverty and build economic wealth in the community.
Working Paper 2017/01 – TacklingPovertyNZ 2016 Tour: Methodology, results and observations has been released for comment and can be found on our website. This paper brings all the outputs together from the six workshops and aims to illustrate the differences between communities. In 2017 we would like to build on these findings. There was a lot to learn and digest, and we are still working through what this means in terms of public policy. Any feedback on this paper is most welcome. This year we will send an invitation to all MPs to meet to discuss the working paper.