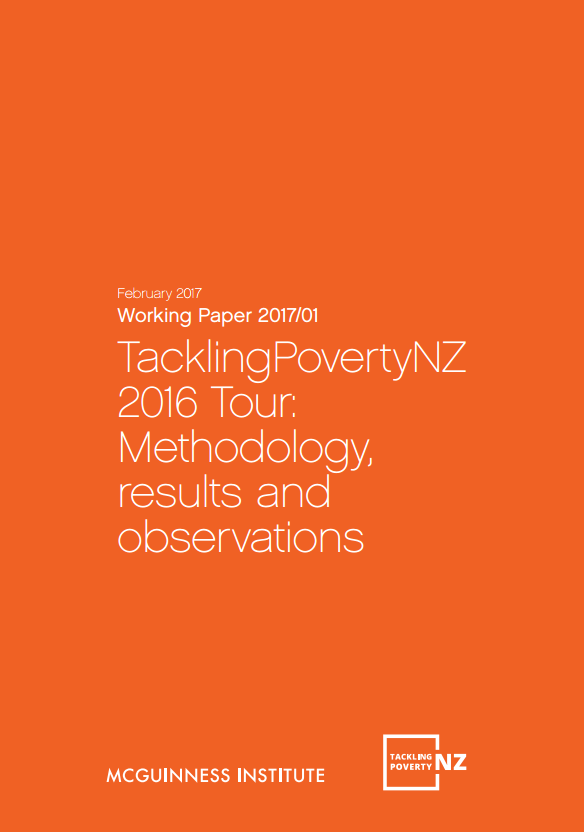 Having been published as a draft for feedback, we are please to announce that final Working Paper 2017/01 – TacklingPovertyNZ 2016 Tour: Methodology, results and observations is now published on our website. The working paper brings all the outputs together from the six workshops to illustrate the differences between the communities visited. Its purpose is threefold: to explain the thinking behind the one-day workshop tour (the methodology), to document the 'hows' collected on the way (the results) and to explain our interpretation of the 'hows' we heard (the observations). Additionally, this working paper includes infographics, tables and checklists as appendices that we developed on and after the workshop tour, notably, the evolution of the Sustaining and Empowering Factors Framework.
Other recent outputs
(i) A Proposal to the Rt Hon Bill English on Demarcation zones for public policy innovation has been made public and can be found here.
(ii) The five one-day workshop discussion papers have been published on our website. This series of papers aims to provide an insight into the different regional perspectives on poverty in New Zealand in order to inform national decision-making and to support local initiatives.
(iii) We are publishing videos of speaker presentations from the tour as they become final on our YouTube channel. In the next month we will begin a promotional campaign for the national tour video series.
Next Steps for TacklingPovertyNZ
The Institute will continue this work in 2017, looking to share our findings across the country. We will invite all MPs to meet to discuss project TacklingPovertyNZ, and will be returning to the six areas visited to present our results and gather further feedback. Wendy McGuinness will attend the Community Boards Conference in May 2017 in Methven where she will share the findings from the national tour. The Institute also has invitations to undertake other workshops in 2017 and is looking into these proposals.
The Institute will continue to pursue the idea of demarcation zones, as discussed in the proposal to the Rt Hon Bill English, which can be read in full here . We are also in the process of preparing a think piece on the tour which will explore the key ideas discussed in this working paper.
It is important that the Institute honour the ideas heard throughout the 2016 tour by continuing to share them with our community.