As part of the follow-up to the 2016 TacklingPovertyNZ workshop tour, we will be posting one blog a day over the next few weeks to accompany the workshop speaker videos published on our YouTube channel.
Watch Nigel Allan, Chair of Te Manawa Family services, share his opinions on the three forms of poverty and what solutions we should be working towards at the one-day Manawatu TacklingPovertyNZ workshop on 15 August 2016 in the video below.
Nigel opened by explaining the Te Manawa Family Services Trust, which is a national network for working with families and friends to break cycles of violence and abuse.
Nigel went on to share three forms of poverty:
1. Poverty within relationships
In the previous year, there were 186 reported family violence incidents in Manawatu. Nigel supports increasing the accessibility of social services (including counselling) to make sure that the Manawatu community are aware of what is available to them, and that they are able to access these services if they wish, without financial constraint. He also noted that NGOs and government agencies need to focus on working collaboratively – as opposed to competitively – for the betterment of the community.
2. Poverty of opportunity
The two goals Nigel saw for the community were to ensure that youth are supported and encouraged to attain appropriate educational standards and that youth leaving school are aware of vocational opportunities available to them. Achievement of these two goals will contribute to the removal of barriers to employment in the region.
3. Poverty of connection
The third form of poverty relates to isolation within communities. Nigel asserts the need to ensure that support services are readily accessible, and that individuals are encouraged to seek support. We need to ensure that people suffering from poverty of connection are not left to fight these issues on their own.
Nigel urged participants to keep in mind that the real challenge is not to look at financial poverty in isolation, but to empower individuals and build resilience.
About the TacklingPovertyNZ 2016 tour
The 2016 tour was a response to a 2015 three-day workshop that brought together 36 participants aged 18 to 25 representing a diverse range of backgrounds from throughout New Zealand. Participants found that 'assuming that one solution will work everyone indicates a failure to address cultural disparities and injustices, and an ignorance of the diversity of our population'. The purpose of the 2016 tour was to build and share ideas on how to tackle poverty, come up with local solutions and connect like-minded people within communities.
The Manawatu workshop was one of six, along with workshops in Queenstown, Rotorua, Gisborne, Kaitaia and Kaikohe. A discussion paper for each area visited has been published on our website. These papers are specific to each community and together form a series showcasing insights from individuals who attended a one-day workshop in their local community.


To learn more about the tour, read Working Paper 2017/01 – TacklingPovertyNZ 2016 Tour: Methodology, results and observations here. This paper brings all the outputs from the six workshops together and aims to illustrate the diverse range of challenges and opportunities existing in communities.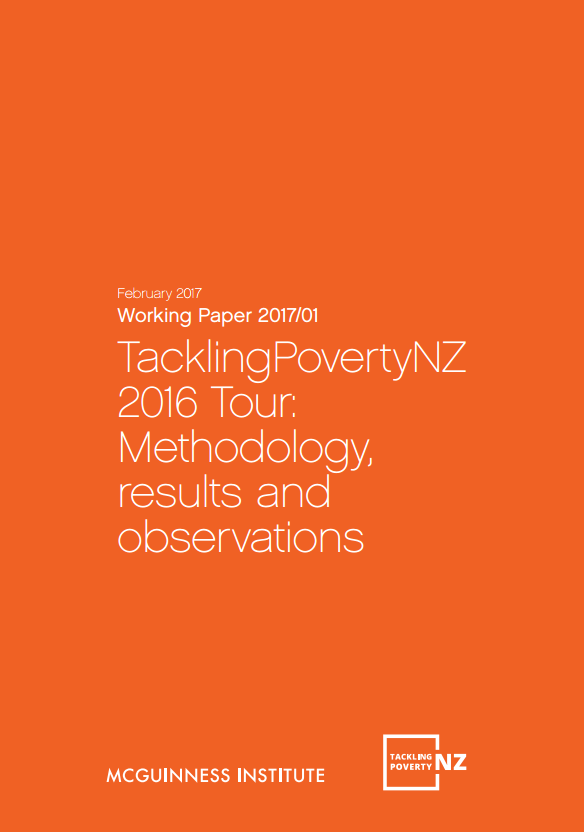 In 2017 we would like to build on these findings. There was a lot to learn and digest, and we are still working through what this means in terms of public policy.
To stay up to date with Project TacklingPovertyNZ, subscribe to the newsletter here.