As part of the follow-up to the 2016 TacklingPovertyNZ workshop tour, we will be posting one blog a day over the next few weeks to accompany the workshop speaker videos published on our YouTube channel.
Watch Tania McInnes, Deputy Mayor of the Far North District Council, discuss the importance of mentoring and tackling the lack of hope at the Kaikohe TacklingPovertyNZ one-day workshop on 16 September 2016 in the video below.
Tania discussed how poverty is much more than a material problem, and needs to involve tackling the lack of hope in the community – what Tania called 'poverty of the soul'. She argued that there are many examples of young people who have grown up in an environment without much in the way of material things but who have great wealth in the love and encouragement they received. Tania challenged the community to be mindful of the labels we put on people. She argued that society has a habit of putting people into boxes, which has long-term consequences for how they interact with the world.
Tania asserted that local and national government need to occupy supportive roles (rather than leadership roles), which will influence their way of thinking and working with communities. She argued that we should recognise that communities know what's best for them as opposed to the one-size-fits-all- approach.
Tania argued that to empower the community, we need to combine self-responsibility and community responsibility. She shared the District Council's 2050 vision He Whenua Rangatira – a district of sustainable prosperity and well-being and maintained that this vision will be achieved by starting small and challenging beliefs and norms. It was a grassroots process with over 2,000 responses contributing to the development of the vision's seven values and nine expectations. She also argued that we need a vision for New Zealand that steps outside of whoever is in government, which is based on our key values and principles of who we are as a country. 'Where is the opportunity for us, as New Zealand, to make decisions about our future?' If we are to change our story, we are all in this together. 
About the TacklingPovertyNZ 2016 tour
The 2016 tour was a response to a 2015 three-day workshop that brought together 36 participants aged 18 to 25 representing a diverse range of backgrounds from throughout New Zealand. Participants found that 'assuming that one solution will work everyone indicates a failure to address cultural disparities and injustices, and an ignorance of the diversity of our population'. The purpose of the 2016 tour was to build and share ideas on how to tackle poverty, come up with local solutions and connect like-minded people within communities.
The Kaikohe workshop was one of six, along with workshops in Queenstown, Manawatu, Rotorua, Gisborne and Kaitaia. A discussion paper for each area visited has been published on our website. These papers are specific to each community and together form a series showcasing insights from individuals who attended a one-day workshop in their local community.

To learn more about the tour, read Working Paper 2017/01 – TacklingPovertyNZ 2016 Tour: Methodology, results and observations here. This paper brings all the outputs from the six workshops together and aims to illustrate the diverse range of challenges and opportunities existing in communities.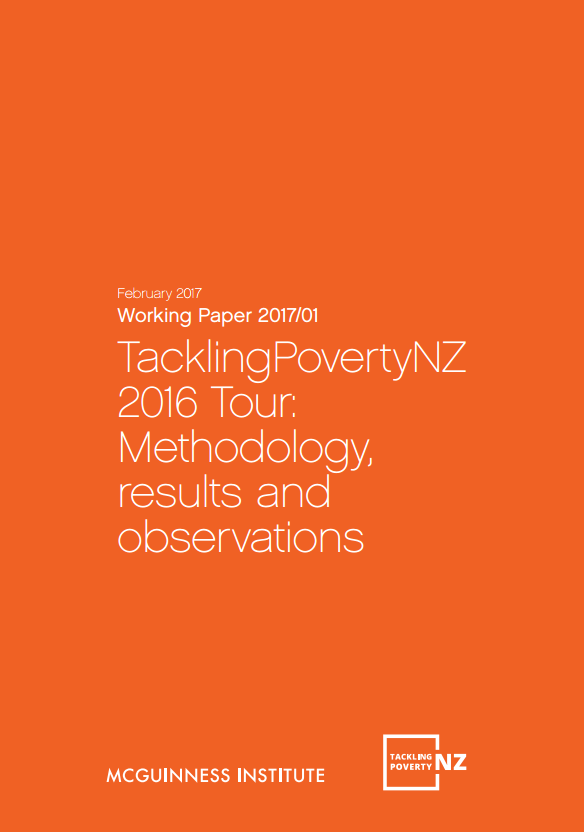 In 2017 we would like to build on these findings. There was a lot to learn and digest, and we are still working through what this means in terms of public policy.
To stay up to date with Project TacklingPovertyNZ, subscribe to the newsletter here.