As part of the follow-up to the 2016 TacklingPovertyNZ workshop tour, we will be posting one blog a day over the next few weeks to accompany the workshop speaker videos published on our YouTube channel.
Watch Dame Diane Robertson, former chief executive of the Auckland City Mission, share her experience of working with families in poverty at the TacklingPovertyNZ one-day Rotorua workshop on 19 August 2016 in the video below.
Dame Diane opened sharing her frustration at the current method to overcome poverty: 'we talk to other service providers, we occasionally talked to policy people, but we seldom talk to the families themselves about what it's like to experience poverty'. She shared the Auckland City Mission's Family 100 Research Project, which aimed to overcome this issue by talking to 100 families in poverty. Diane explained the importance of communication to really understanding who people are and the intergenerational factors that affect their behaviour. Filling out a form about someone and telling them to get a job is not an effective response.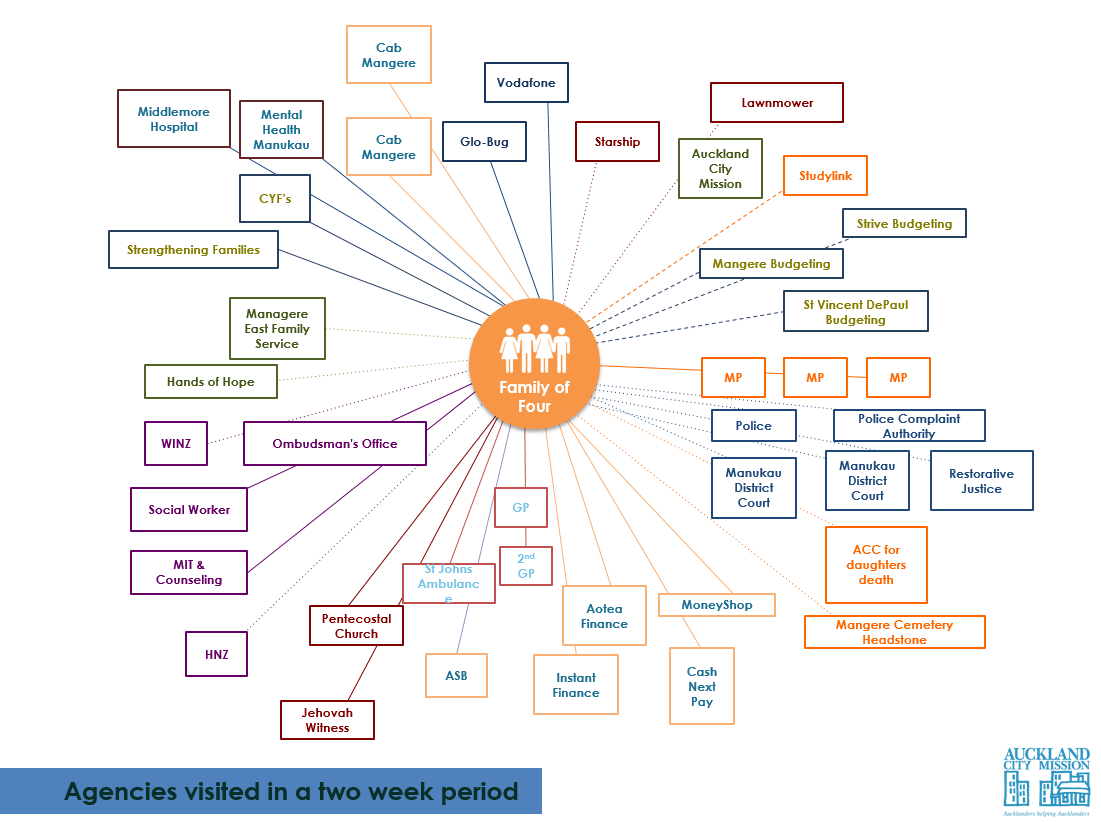 She then presented a web diagram (above) of the agencies visited in a two week period by a family living in poverty. This diagram highlights the system's complexity, which families struggle to navigate as they tell their stories over and over. Dame Diane argued that these agencies need to change the way they work with people; rather than supporting families to navigate around broken systems, the systems need to change. She also shared her concerns that the Ministry of Social Development doesn't know how much it is spending on emergency housing for families, because the spending is across many agencies and the Ministry doesn't know how to get the data. This highlights how current service providers work in silos and the impact this has on efficiency.
Dame Diane called for participants to think strategically about 'what we need in public policy to make sure that every child and every family has those building blocks to start to move them out of poverty'.
About the TacklingPovertyNZ 2016 tour
The 2016 tour was a response to a 2015 three-day workshop that brought together 36 participants aged 18 to 25 representing a diverse range of backgrounds from throughout New Zealand. Participants found that 'assuming that one solution will work everyone indicates a failure to address cultural disparities and injustices, and an ignorance of the diversity of our population'. The purpose of the 2016 tour was to build and share ideas on how to tackle poverty, come up with local solutions and connect like-minded people within communities.
The Gisborne workshop was one of six, along with workshops in Queenstown, Manawatu, Rotorua, Kaitaia and Kaikohe. A discussion paper for each area visited has been published on our website. These papers are specific to each community and together form a series showcasing insights from individuals who attended a one-day workshop in their local community.

To learn more about the tour, read Working Paper 2017/01 – TacklingPovertyNZ 2016 Tour: Methodology, results and observations here. This paper brings all the outputs from the six workshops together and aims to illustrate the diverse range of challenges and opportunities existing in communities.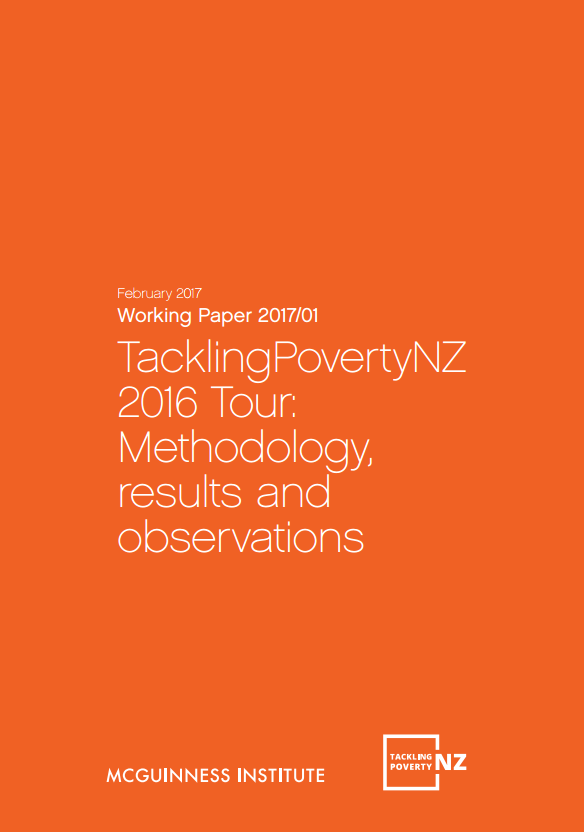 In 2017 we would like to build on these findings. There was a lot to learn and digest, and we are still working through what this means in terms of public policy.
To stay up to date with Project TacklingPovertyNZ, subscribe to the newsletter here.