As part of the follow-up to the 2016 TacklingPovertyNZ workshop tour, we will be posting one blog a day over the next few weeks to accompany the workshop speaker videos published on our YouTube channel.
Watch Amanda Oldfield, coordinator of the Carelink Community Trust, share her thoughts and experiences with poverty, and the housing crisis and its link with acute or chronic hardship at the one-day Manawatu TacklingPovertyNZ workshop on 15 August 2016 in the video below.
Amanda discussed the Carelink Community Trust, which supports families in acute or chronic hardship. The Trust's vision is to provide access to emergency housing where a person may stay between 24 hours and 30 days, allowing time to assess the barriers that are limiting their ability to find long-term housing. The trust also aims to provide transition housing for periods of three to 12 months including a wraparound service that aids in finding long-term housing solutions.
Amanda spoke to the participants about two key points:
What is it like to be in acute or chronic hardship?
Amanda talked about the pressing issues for families and their children. In her work with the Carelink Community Trust she has observed children growing up in damp, overcrowded housing, resulting in children becoming sick and having unacceptable time off school in a crucial development period of their lives. She noted that we are seeing a high level of dysfunction in relationships, causing stress and harm to the family unit. It is safe to say that poverty is more complicated than looking at the material resources a person may have (or not have). Amanda explained through a personal experience she had with a grandmother, 'Suzy', and her five month old grandchild, how someone can become homeless very quickly. She discussed how she helped Suzy find a safe place to live, and empowered her to have a positive outlook on the future – for herself and her grandchild.
What can we do for people like 'Suzy'?
Amanda outlined what she sees as the key solutions for alleviating poverty. Firstly, to provide a safe place to live that allows for assessment, planning and implementation of a strategy to reach one's goals. Secondly, offering a 'wraparound service' of community support workers to empower families and individuals to live independently, but be well supported.
Amanda left participants with a quote from Nelson Mandela 'do not look the other way; do not hesitate. Recognise that the world is hungry for action, not words. Act with courage and vision.'
About the TacklingPovertyNZ 2016 tour
The 2016 tour was a response to a 2015 three-day workshop that brought together 36 participants aged 18 to 25 representing a diverse range of backgrounds from throughout New Zealand. Participants found that 'assuming that one solution will work everyone indicates a failure to address cultural disparities and injustices, and an ignorance of the diversity of our population'. The purpose of the 2016 tour was to build and share ideas on how to tackle poverty, come up with local solutions and connect like-minded people within communities.
The Manawatu workshop was one of six, along with workshops in Queenstown, Rotorua, Gisborne, Kaitaia and Kaikohe. A discussion paper for each area visited has been published on our website. These papers are specific to each community and together form a series showcasing insights from individuals who attended a one-day workshop in their local community.

To learn more about the tour, read Working Paper 2017/01 – TacklingPovertyNZ 2016 Tour: Methodology, results and observations here. This paper brings all the outputs from the six workshops together and aims to illustrate the diverse range of challenges and opportunities existing in communities.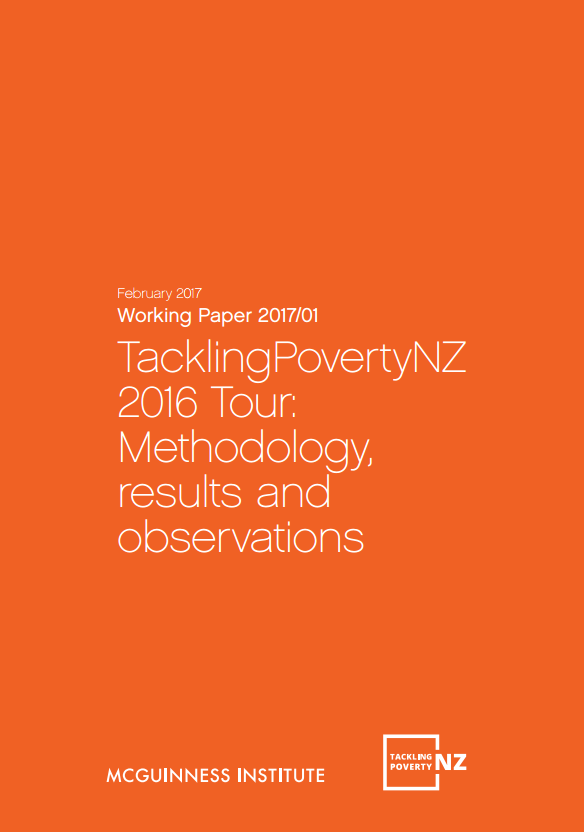 In 2017 we would like to build on these findings. There was a lot to learn and digest, and we are still working through what this means in terms of public policy.
To stay up to date with Project TacklingPovertyNZ, subscribe to the newsletter here.