As part of the follow-up to the 2016 TacklingPovertyNZ workshop tour, we will be posting one blog a day over the next few weeks to accompany the workshop speaker videos published on our YouTube channel.
Watch Kelly Yakas, manager of a number of community-based initiatives, discussed early childhood education and the importance of whānau support at the one-day Kaikohe TacklingPovertyNZ workshop on 16 September 2016 in the video below.
Kelly shared her story of what led her back to Kaikohe to raise her children – the need for connections to whenua and whakapapa.
She asserted that we need to increase early childhood education participation in Kaikohe and shared what she was doing to achieve this. In 2013, Kelly started asking parents what they want for their children. The responses were for a safe place to feed, change nappies and connect as parents. This led Kelly, with a grant from the Ministry of Education, to establish the 'hub' – Te Kohekohe drop-in centre. She described this hub as a neutral space for other organisations to connect through and a place where everyone who walks through the door is valued. The hub provides one-on-one personal connection without labels or judgement. It is a way to support parents and engage young children in early learning activities in a way that is non-threatening. Kelly's work has connected people, not just at the drop-in centre, but in the wider community.
Kelly shared other initiatives including Early Childhood Education teacher workshops, Playgroups, Whānau Fun Fest and the Street Play Day initiative they put on across the community, door-knocking on every street in Kaikohe. She realised that going to their homes was just as important as the drop-in centre and over time it has helped lift the spirits of the community.
About the TacklingPovertyNZ 2016 tour
The 2016 tour was a response to a 2015 three-day workshop that brought together 36 participants aged 18 to 25 representing a diverse range of backgrounds from throughout New Zealand. Participants found that 'assuming that one solution will work everyone indicates a failure to address cultural disparities and injustices, and an ignorance of the diversity of our population'. The purpose of the 2016 tour was to build and share ideas on how to tackle poverty, come up with local solutions and connect like-minded people within communities.
The Kaikohe workshop was one of six, along with workshops in Queenstown, Manawatu, Rotorua, Gisborne and Kaitaia. A discussion paper for each area visited has been published on our website. These papers are specific to each community and together form a series showcasing insights from individuals who attended a one-day workshop in their local community.

To learn more about the tour, read Working Paper 2017/01 – TacklingPovertyNZ 2016 Tour: Methodology, results and observations here. This paper brings all the outputs from the six workshops together and aims to illustrate the diverse range of challenges and opportunities existing in communities.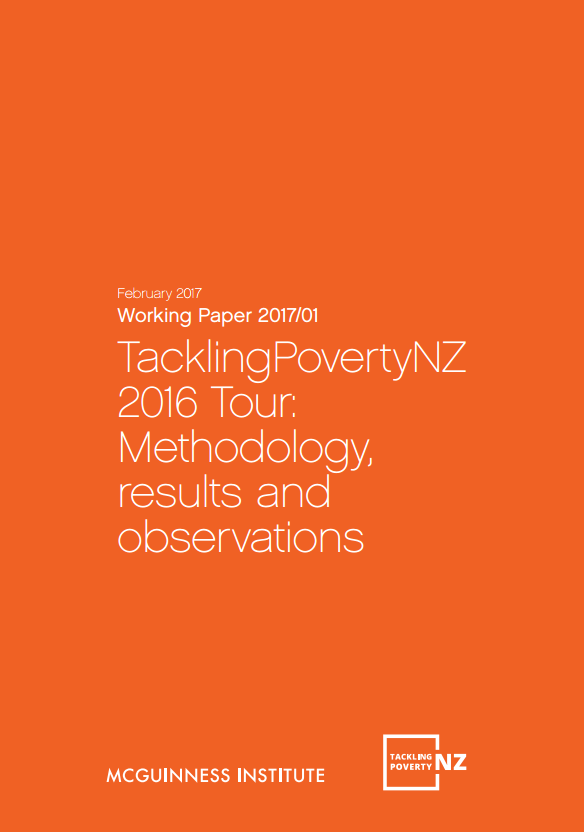 In 2017 we would like to build on these findings. There was a lot to learn and digest, and we are still working through what this means in terms of public policy.
To stay up to date with Project TacklingPovertyNZ, subscribe to the newsletter here.