As part of the follow-up to the 2016 TacklingPovertyNZ workshop tour, we will be posting one blog a day over the next few weeks to accompany the workshop speaker videos published on our YouTube channel.
Watch Virginia Brind, Group Manager of Planning, Funding and Population Health at Hauora Tairāwhiti (previously Tairāwhiti District Health), discuss the impacts of poverty on health at the one-day Gisborne TacklingPovertyNZ workshop on 31 August 2016 in the video below.
Virginia emphasised the cyclical nature of poverty saying 'children who are born and grow in poverty live as adults in poverty'. She then explained the correlation between being born in a low socio-economic family and one's future risk of addiction and other health issues, as found in the Dunedin Study (Dunedin Multidisciplinary Health and Development Study). Virginia shared graphs of Tairāwhiti from a health perspective, showing a lower life expectancy than the national average. She then discussed issues around children's health such as dental care, breast feeding, obesity, rheumatic fever, and smoking mothers.
Virginia argued that everyone in the region has a responsibility and is accountable. She shared some solutions that are a result of cross-sector discussions:
Housing and retrofitting: She explained HrPAH (Housing-related Potentially Avoidable Hospitalisations), which are incidents that 'if the housing quality had been of a sufficient standard, there is every likelihood those hospital admissions wouldn't have happened'. These admissions are declining in Tair

ā

whiti, highlighting the direct link between housing and health.
Community engagement: Calling for people-centric community involvement that is outcome-focused.
Changing models of care: Disinvest in the hospital and move investment out to the community and general practices (see graph below). Hauora Tair

ā

whiti are trying to do this with the Board's new strategic direction.

E Tipu e Rea Outcome Framework for 0 to 6 years: Established in response to community feedback, this framework aims to align services with what parents want for the first six years of their tamariki's life.
Virginia closed by arguing for traditional te ao Māori frameworks of care to be supported in Tairāwhiti, given the demographics of the area. This is beginning to happen through Healthy Families East Cape collective and Mahi a Atua work at Hauora Tairāwhiti.
About the TacklingPovertyNZ 2016 tour
The 2016 tour was a response to a 2015 three-day workshop that brought together 36 participants aged 18 to 25 representing a diverse range of backgrounds from throughout New Zealand. Participants found that 'assuming that one solution will work everyone indicates a failure to address cultural disparities and injustices, and an ignorance of the diversity of our population'. The purpose of the 2016 tour was to build and share ideas on how to tackle poverty, come up with local solutions and connect like-minded people within communities.
The Gisborne workshop was one of six, along with workshops in Queenstown, Manawatu, Rotorua, Kaitaia and Kaikohe. A discussion paper for each area visited has been published on our website. These papers are specific to each community and together form a series showcasing insights from individuals who attended a one-day workshop in their local community.

To learn more about the tour, read Working Paper 2017/01 – TacklingPovertyNZ 2016 Tour: Methodology, results and observations here. This paper brings all the outputs from the six workshops together and aims to illustrate the diverse range of challenges and opportunities existing in communities.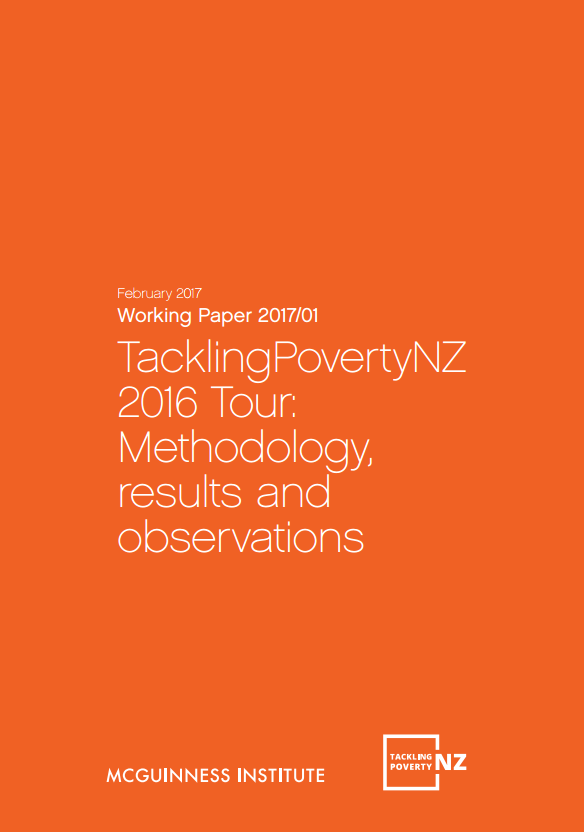 In 2017 we would like to build on these findings. There was a lot to learn and digest, and we are still working through what this means in terms of public policy.
To stay up to date with Project TacklingPovertyNZ, subscribe to the newsletter here.