As part of the follow-up to the 2016 TacklingPovertyNZ workshop tour, we will be posting one blog a day over the next few weeks to accompany the workshop speaker videos published on our YouTube channel.
Watch Laurie Watt share national levers to tackle poverty at the one-day Rotorua #TacklingPovertyNZ workshop on 19 August 2016 in the video below.
Laurie discussed the role of paearahi (navigators) in Te Arawa Whānau Ora, which is made up of ten service providers engaging and assisting whānau to achieve their goals, dreams and aspirations. She noted that, before we can start to address their aspirations, we have to deal with their immediate issues – providing an action plan and timeline. Only after this is done can their dreams and aspirations be addressed.
Laurie presented three levers for national change:
1. Education and curriculum change.
Laurie asserts that national change is needed in education. She recommends that basic life skills be brought back into the curriculum. This should include teaching relationship skills and fostering respect between teachers and students. Laurie asserts that school should be fun again so that students go because they want to, not because they have to. She also notes that there should be financial changes to address the fees and additional costs of sending children to school.
2. Connection to whānau and land.
Laurie notes that for these to be effective as key support mechanisms for whānau, national support for culture and Māori identity programmes will be required.
'Whānau is whakapapa, we must know who we are and where we come from. Whānaua is manawhenua. We must know where our land is and have a connection to it. Whānau who are connected, are proud because we know who we are and where we come from, are confident, and we have values.'
3. First 1,000 days of children's lives.
Laurie acknowledges the importance of this stage in terms of parents nurturing tamariki and recommends promoting the option for mothers and/or fathers to stay at home as a national change.
Laurie's closing remarks were that the hardest thing for locals can be talking to their own community and she asked that participants use the workshop as a space to develop these ideas into action points.
About the TacklingPovertyNZ 2016 tour
In December 2015, the McGuinness Institute undertook a three-day workshop in collaboration with the New Zealand Treasury. Its purpose was to explore ways to reduce poverty in New Zealand. This workshop has led to a number of outputs, one of which was a tour of one-day workshops around New Zealand throughout 2016. The purpose of the tour was to build and share ideas on how to tackle poverty, come up with local solutions and connect like-minded people within communities.
About the TacklingPovertyNZ 2016 tour
The 2016 tour was a response to a 2015 three-day workshop that brought together 36 participants aged 18 to 25 representing a diverse range of backgrounds from throughout New Zealand. Participants found that 'assuming that one solution will work everyone indicates a failure to address cultural disparities and injustices, and an ignorance of the diversity of our population'. The purpose of the 2016 tour was to build and share ideas on how to tackle poverty, come up with local solutions and connect like-minded people within communities.
The Rotorua workshop was one of six, along with workshops in Queenstown, Manawatu, Gisborne, Kaitaia and Kaikohe. A discussion paper for each area visited has been published on our website. These papers are specific to each community and together form a series showcasing insights from individuals who attended a one-day workshop in their local community.

To learn more about the tour, read Working Paper 2017/01 – TacklingPovertyNZ 2016 Tour: Methodology, results and observations here. This paper brings all the outputs from the six workshops together and aims to illustrate the diverse range of challenges and opportunities existing in communities.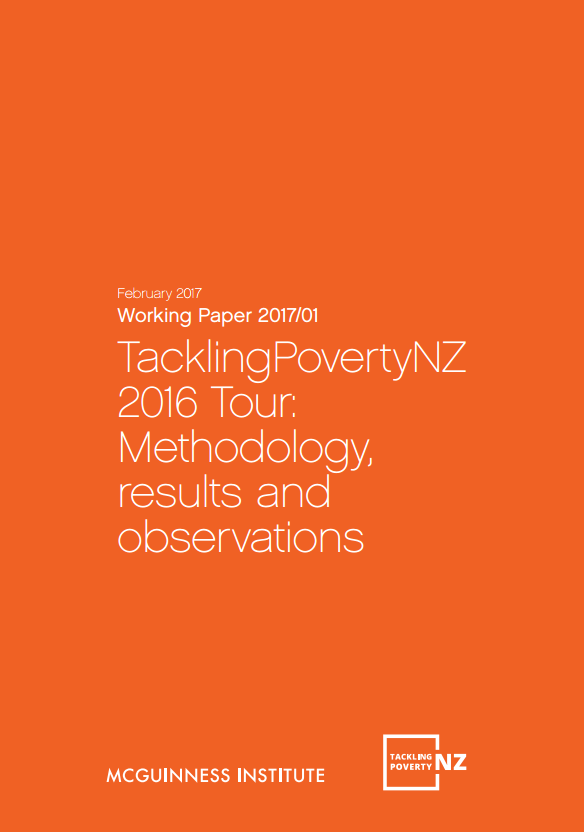 In 2017 we would like to build on these findings. There was a lot to learn and digest, and we are still working through what this means in terms of public policy.
To stay up to date with Project TacklingPovertyNZ, subscribe to the newsletter here.