The McGuinness Institute's latest Think Piece 25: The changing purpose of tertiary education is now published!
Think Piece 25 forms part of the Institute's submission on the Productivity Commission's inquiry into 'new models of tertiary education'. This inquiry presented an opportunity for the Institute to set out ideas we have gathered as to how New Zealand might adopt a more dynamic tertiary education model that is fit for the 21st century.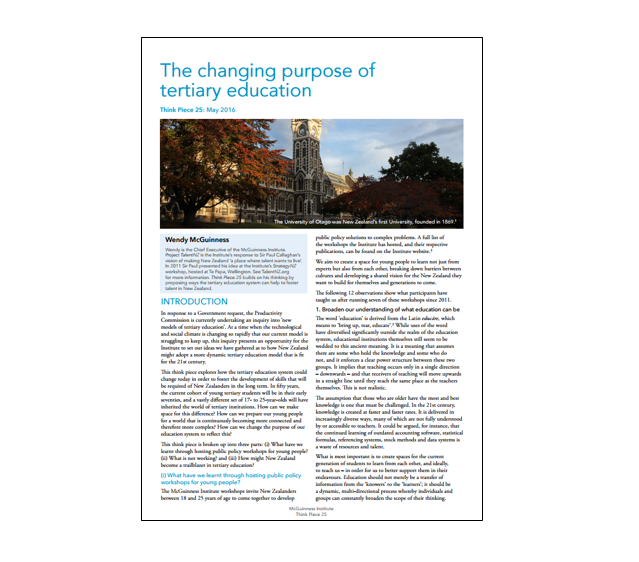 Think Piece 25 explores how the tertiary education system could change today in order to foster the development of skills that will be required of New Zealanders in the long term. In fifty years, the current cohort of young tertiary students will be in their early seventies, and a vastly different set of 17- to 25-year-olds will have inherited the world of tertiary institutions. How can we make space for this difference? How can we prepare our young people for a world that is continuously becoming more connected and therefore more complex? How can we change the purpose of our education system to reflect this? The think piece is broken up into three parts: (i) What have we learnt through hosting public policy workshops for young people? (ii) What is not working? and (iii) How might New Zealand become a trailblazer in tertiary education?
Think Piece 25: The changing purpose of tertiary education forms part of our ongoing TalentNZ project. Check out the TalentNZ website for more information.