The first official day of the WakaNZ: Navigating with foresight workshop opened with a haka pōwhiri into Ngā Mokopuna ā Tāne, the wharenui at the heart of the New Zealand Treasury. Participants were welcomed by a number of Treasury staff including the Secretary and Chief Executive Gabriel Makhlouf and the Chief Operating Officer Fiona Ross.
The first session of the day was Panel 1 with Te Aopare Dewes, Matānuku Mahuika, Rachel Robson and Potaua Biasiny-Tule. Sessions were structured to give each speaker time to present, take questions and then have a panel discussion, followed by a chance to hot-seat around groups of participants. Participants then presented back to the panel. Panel 1 raised a number of questions from the participants including:
What are the indicators of success?
What would a productive Crown-Māori relationship look like?
How do we bridge the gaps of cultural diaspora?
Are we solving the root causes of problems rather than trying a bandage approach?
What is the New Zealand identity?
After lunch with the speakers Panel 2 kicked off with Donna Flavell, Gerrard Albert, Sacha McMeeking, Jason Ake, Dave Taylor. Sacha's baby daughter was a charming distraction for many, but discussions from Panel 2 still managed to span a wide range of issues including
Connecting to whakapapa,
Iwi empowerment of youth,
Not compromising on values,
Intergenerational trust,
Kaitiakitanga and conservation management, and
The power of te ao Māori to move people to action.
From Panel 2, participants fed back the themes of disruption, empowerment and the place of Māori values within institutions to the panellists. At the end of the day, panellists acknowledged the potential of participants and their representation of future leaders. Many of the iwi leaders noted that they had some innovative ideas from participants to take back with them and start implementing.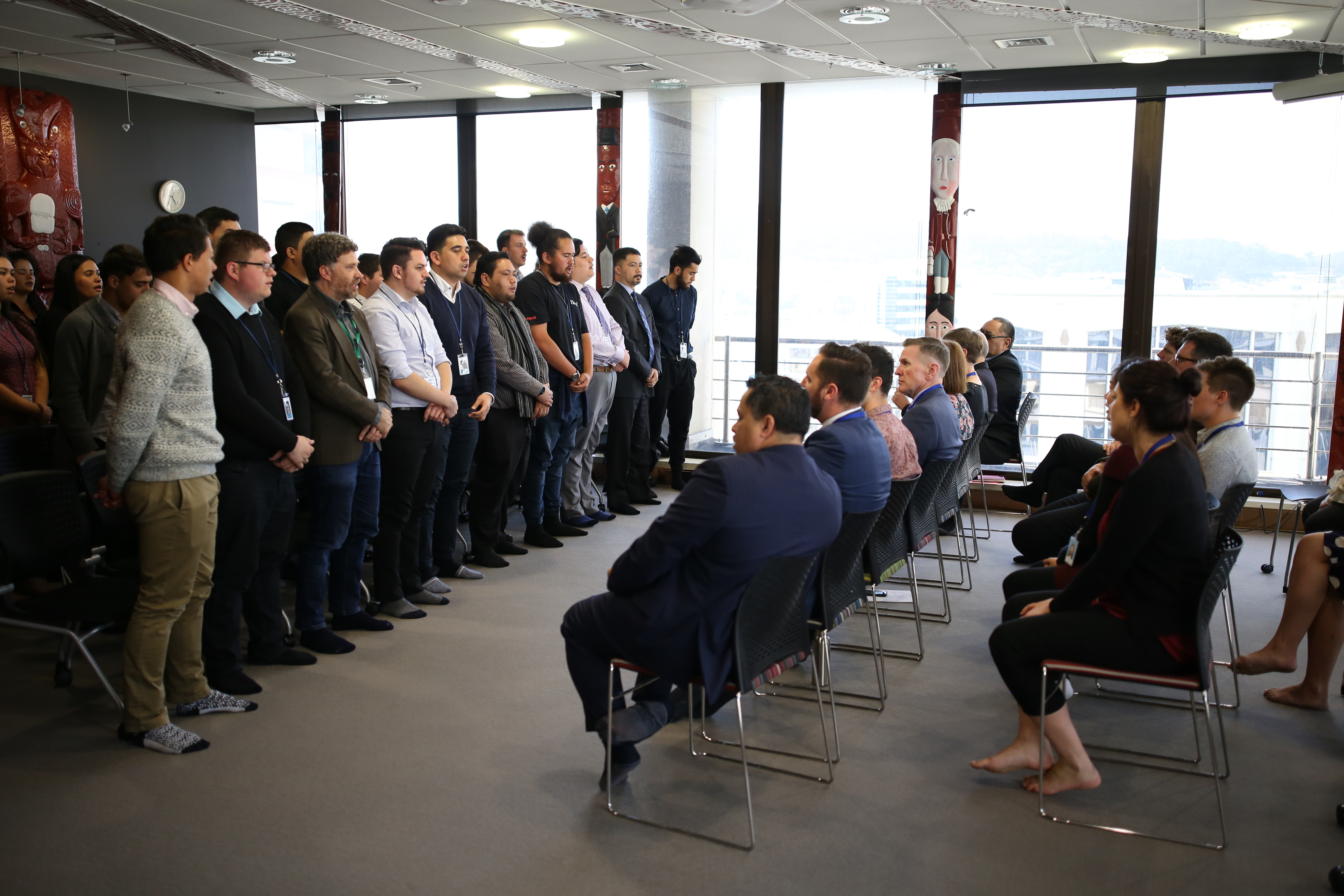 Participants also visited Te Wharewaka o Pōneke to hear Neavin Broughton speak on the significance of the waka housed on the Wellington waterfront. This was followed by a dinner at the McGuinness Institute with former co-leader of the Māori Party, Hon Te Ururoa Flavell.
About the WakaNZ: Navigating with foresight workshop
The WakaNZ workshop, held in collaboration with the New Zealand Treasury, brings together thirty-six 18–25 year old rangatahi from throughout Aotearoa to explore what a post-Treaty settlement future in New Zealand might look like. Over four days, participants engage with and learn from New Zealand Treasury policy analysts, Māori leaders and indigenous foresight practitioners. The hui aims to empower rangatahi with foresight tools, build a shared understanding of the future, and provide a space for youth to voice their ideas and observations about how to shape the future of Aotearoa. Outputs include a finale presentation held at Government House on Wednesday 22 November, where participants will present their findings to Governor General Dame Patsy Reddy, Ministers and Members of Parliament, friends and family. There will also be a public presentation at Te Rongomaraeroa in Te Papa from 12.30pm on Thursday 23 November. In the weeks following the workshop, findings and results will be developed into a booklet with ongoing feedback from the workshop participants.
For more information about the WakaNZ programme, participants and speakers, please visit the website here, or follow the Twitter hashtag #WakaNZ for live updates.
Lunchtime presentation at Te Papa:
Thursday, 23 November
12.30–1.30 pm
Level 4, Terongomaraeroa, Te Papa
Last Updated 2 years by admin