We are a non-partisan think tank applying hindsight, insight and foresight to explore major challenges and opportunities facing New Zealand over the long term.
We are committed to positively influencing public policy by empowering New Zealanders to have the uncomfortable, but necessary, conversations that are required to enable New Zealand to realise its potential.
COVID-19 Nation Dates
Project PandemicsNZ
COVID-19 Nation Dates: A timeline of significant events in Aotearoa New Zealand's COVID-19 pandemic is the newest book in the Nation Dates series. This book presents a timeline of significant events that have shaped the COVID-19 pandemic in Aotearoa New Zealand. It is available for purchase for $35.00 on our BigCartel store.
The Institute hosted a book launch for COVID-19 Nation Dates on Thursday, 23 March. This was to commemorate three years from when Prime Minister Hon Jacinda Ardern declared a State of National Emergency for Aotearoa New Zealand at the beginning of the COVID-19 pandemic.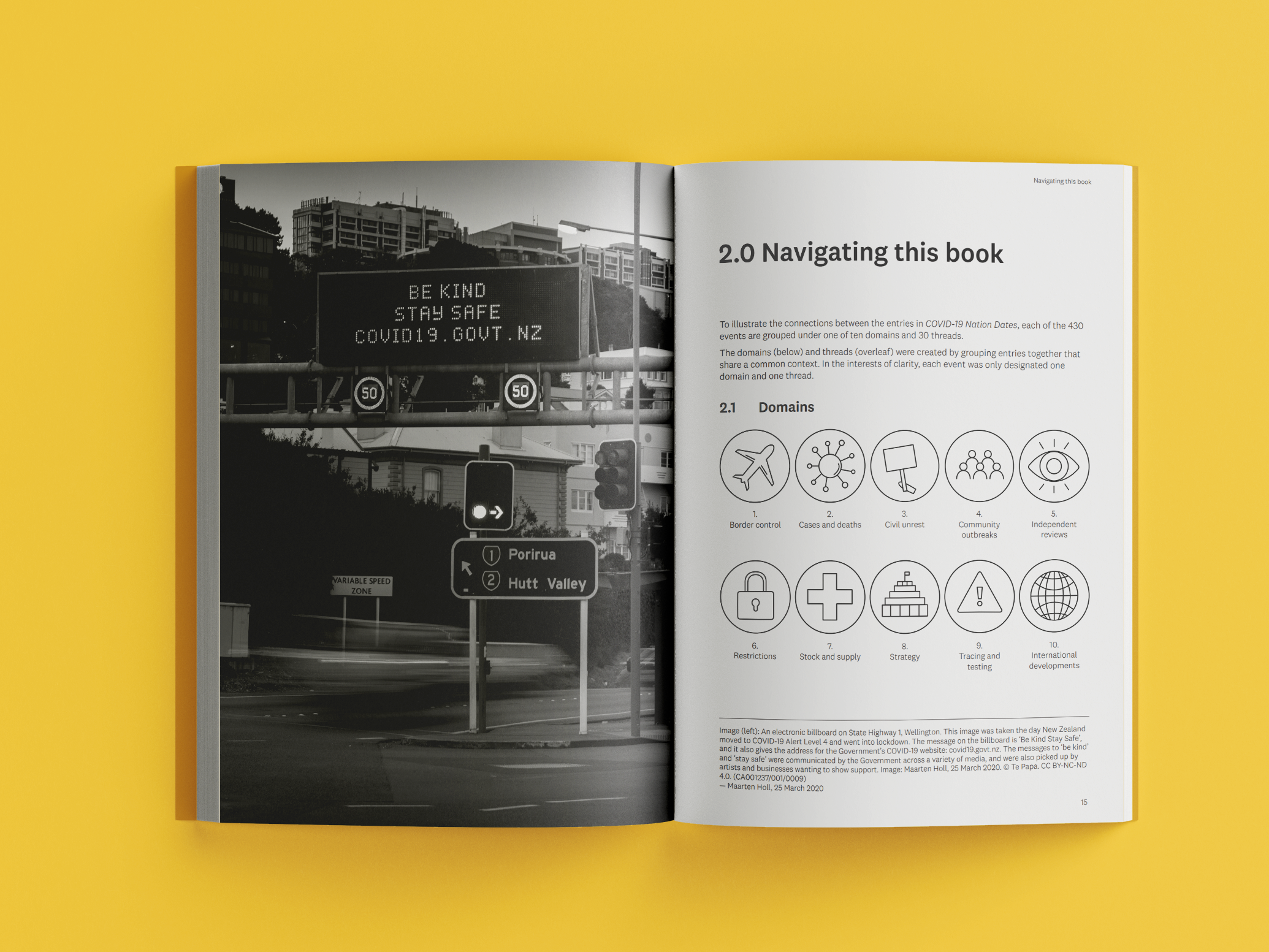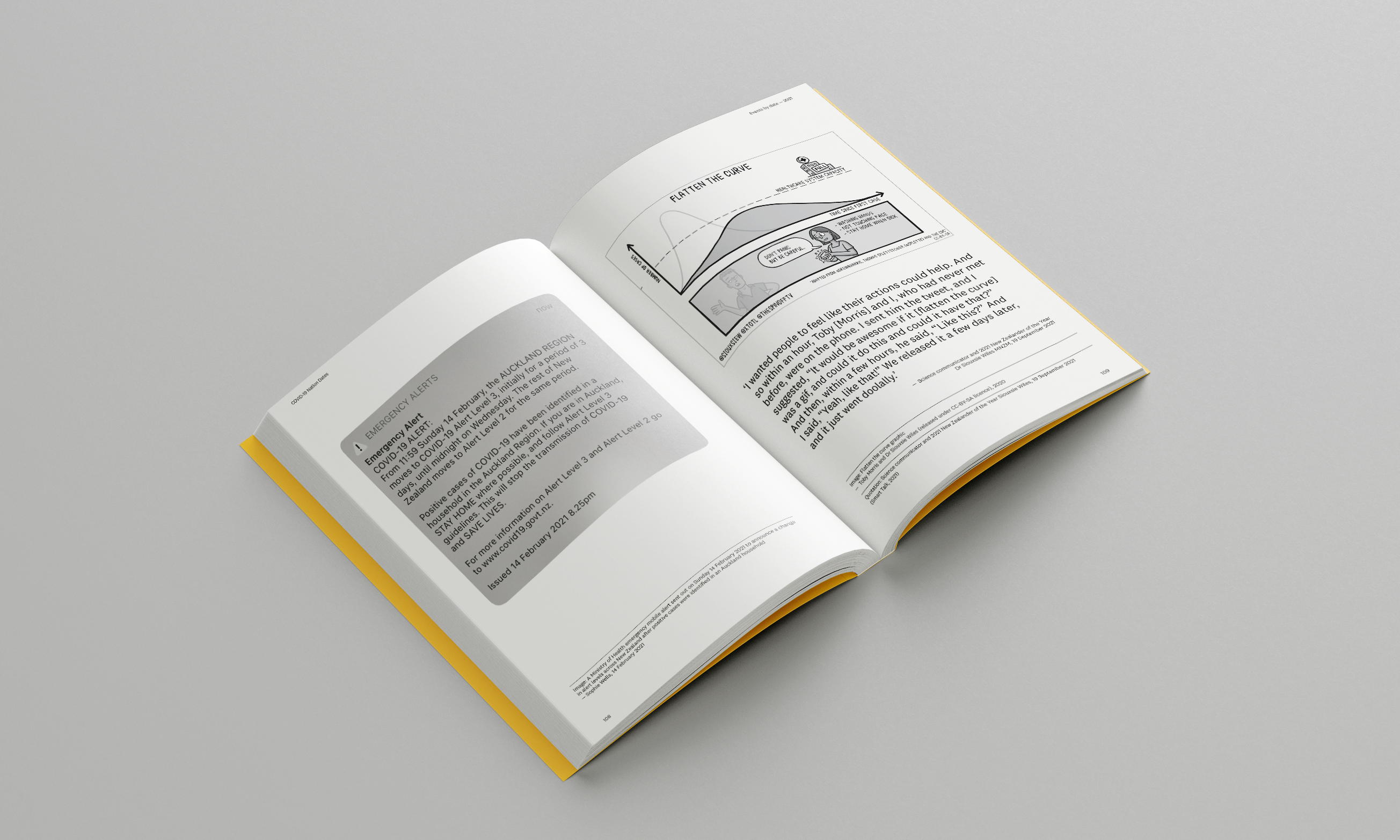 Brief to the Incoming Government (BIG Ideas)
Project ForesightNZ
Wednesday 22 February 2023

Thank you to all who attended the Brief to the Incoming Government event. The Brief to the Incoming Government is an exercise based upon crowd-sourced ideas that have an overall aim of shaping Aotearoa New Zealand's long-term future (for the better). Throughout the event, these ideas were collected, considered, challenged and debated between attendees. This process was extremely helpful to test our thinking and help guide our work programme going forward. We wish to thank you all for your insightful participation.
Our new discussion paper proposes a polysolution – a package of BIG policy actions that have scale and together are able to 'shock' the emerging polycrisis with a diverse range of actions designed to slow, control and ideally reverse the mass of crises we face.
Discussion Paper 2023/01 – BIG Ideas: Brief to the Incoming Government has been published in a short read and long read form. The long read has 197 references.
Brief to the Incoming Government webinar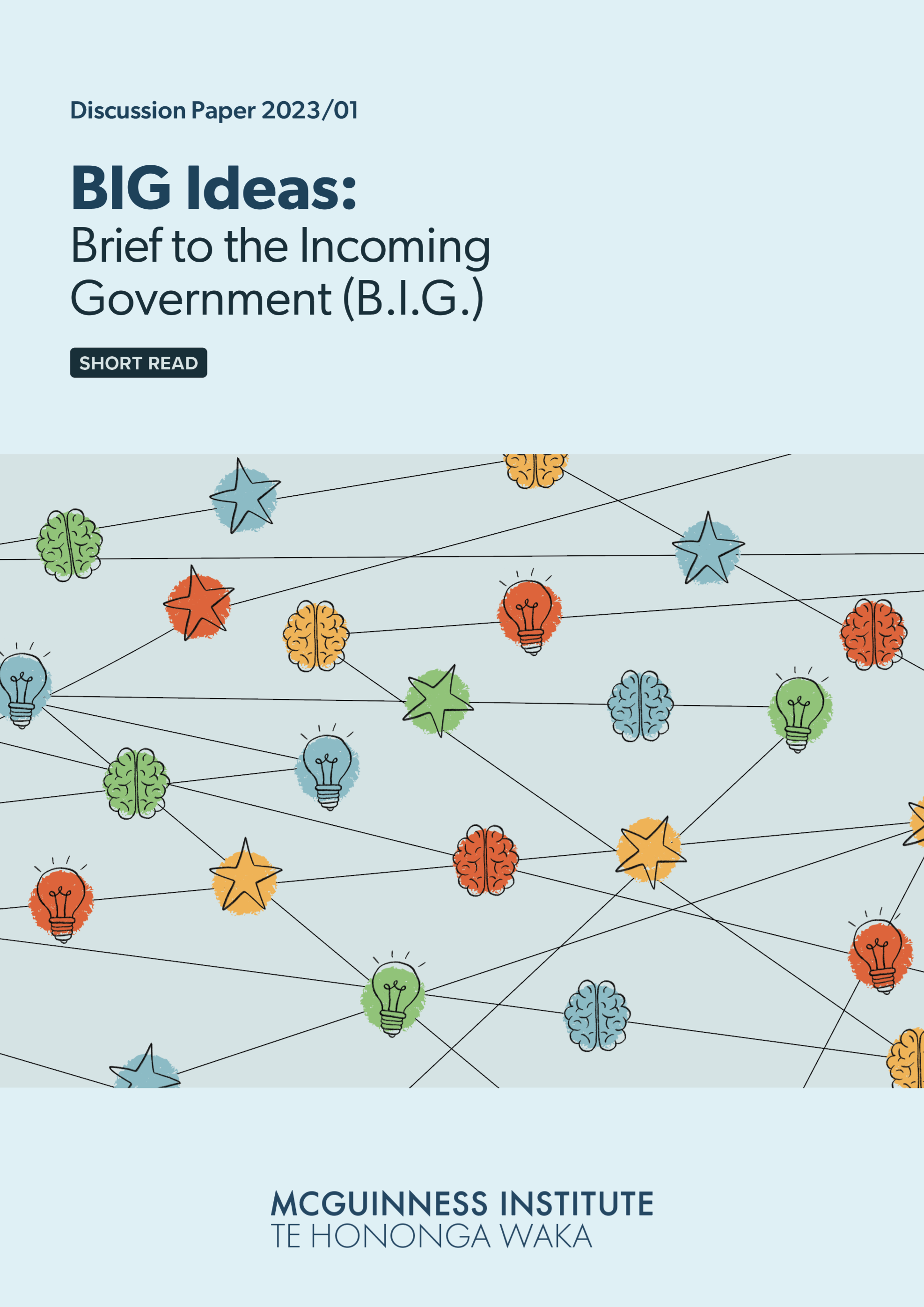 Discussion Paper 2023/01 – BIG Ideas: Brief to the Incoming Government (Short Read)
Download (PDF, 3MB)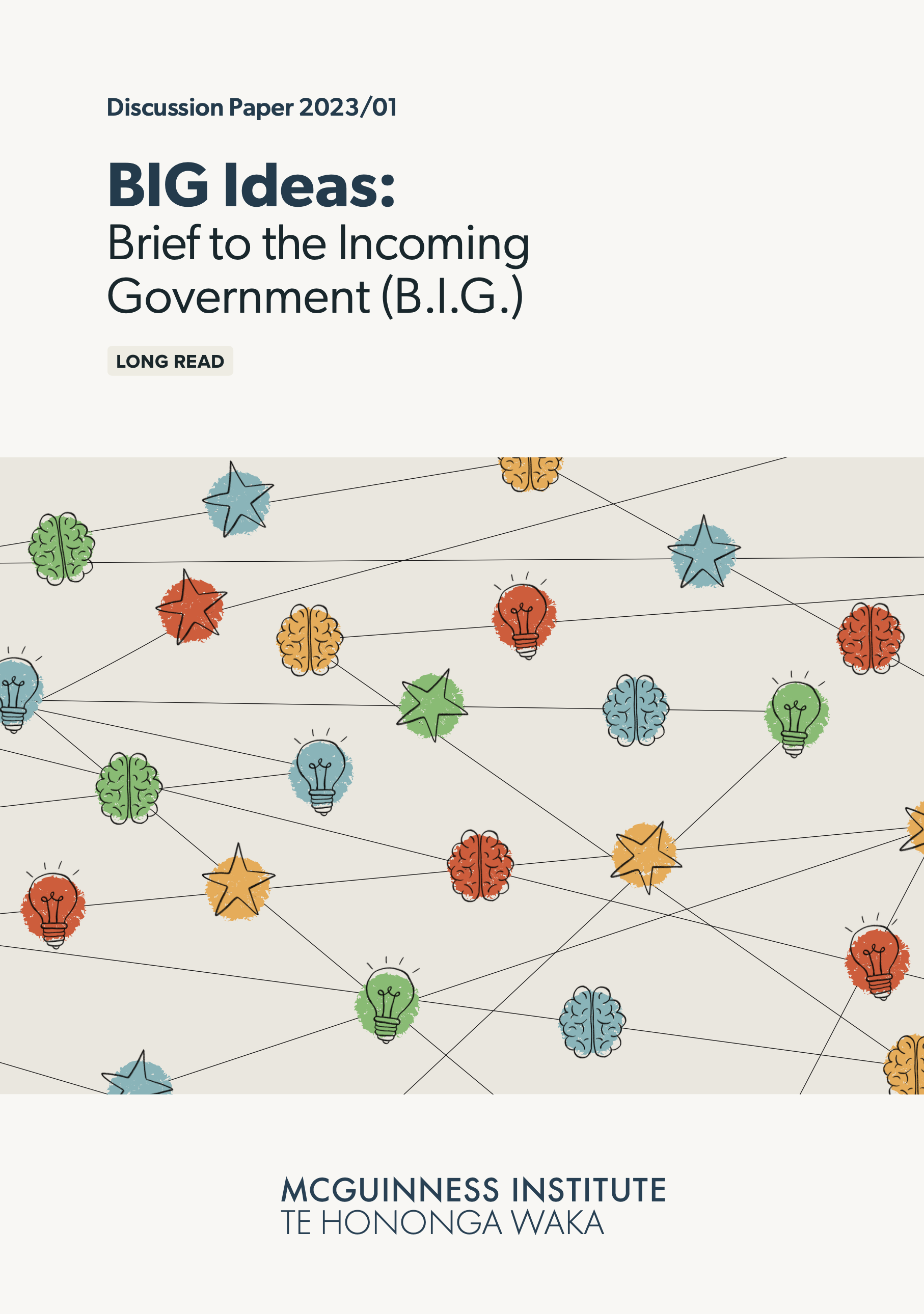 Discussion Paper 2023/01 – BIG Ideas: Brief to the Incoming Government (Long Read)
Download (PDF, 6MB)
Bursting Bubbles Series
The last Thursday in the months of May, June, July and August.
How to be non-partisan in a partisan world, with James Picker
How to sharpen your political nous in government, with Sally Washington
Thursday, 25 May 2023, from 5.00pm is the first!
Register here
Our new location enables us to host events and this series of events is the result. We are delighted with the quality of speakers and know that they will provide some invaluable insights and skills as we navigate 2023 and beyond. If this is of interest, please register early.
Event flyer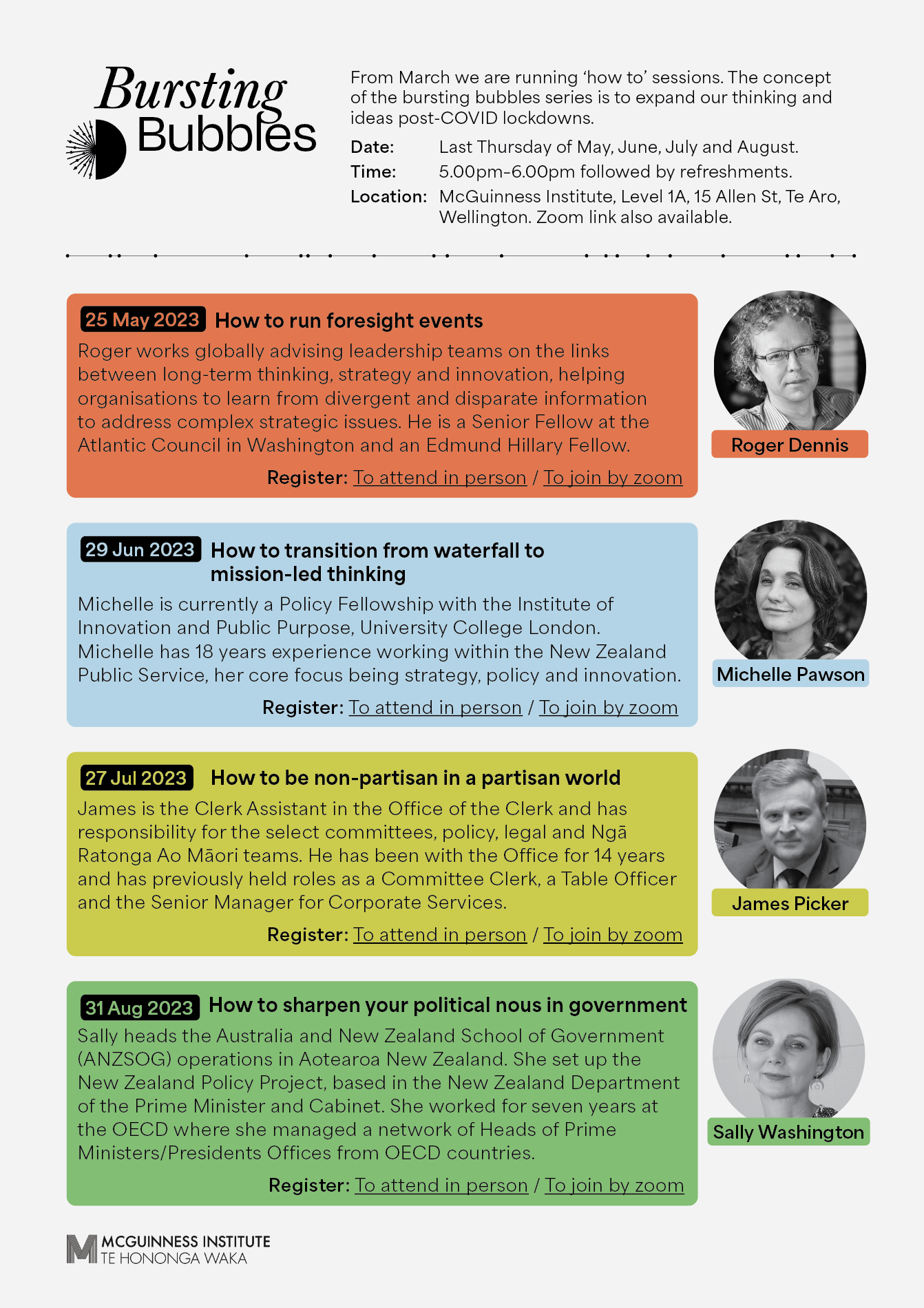 Recent Publications
Project ClimateChangeNZ
Working Paper 2022/14 – Reviewing TCFD information in 2017–2021 reports of NZSX-listed companies
September 2022
Download (PDF, 38 MB)
This research updates Working Paper 2021/06 – Reviewing TCFD information in 2017–2020 Annual Reports of NZSX-listed companies. This year, we have also analysed the TCFD reports of NZSX-listed companies against the six weather and climate extreme events discussed in Chapter 11 of the 2021 IPCC 6th Assessment Report. Although only 19 reports were reviewed, it was very clear that compounded events have not been sufficiently reported on. This implies compounded events are not being fully discussed and understood at board level (see Figures 2–4 in the working paper).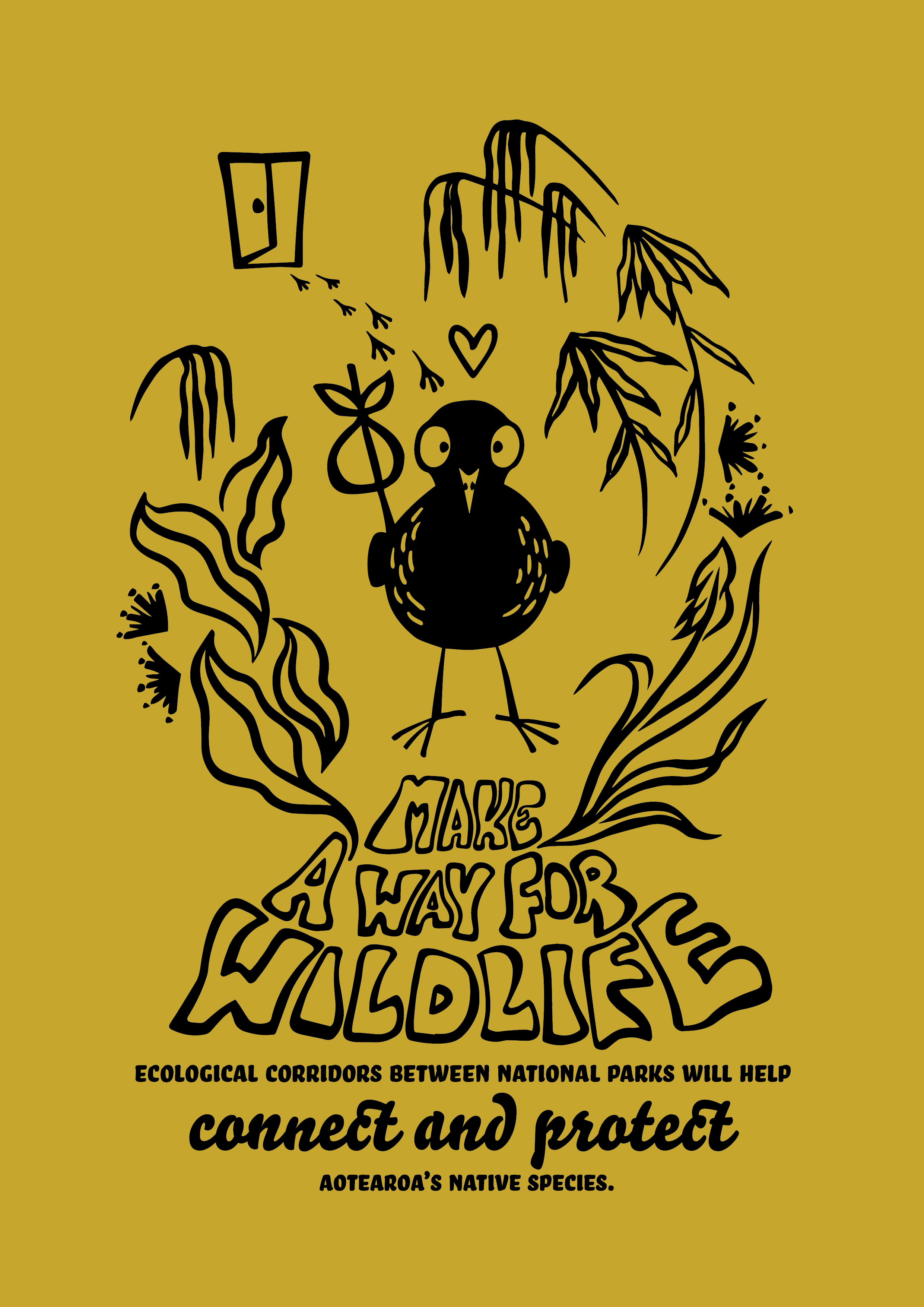 Proposal to create New Zealand's first ecological corridor along the West Coast of the South Island
Learn more about the stewardship land reclassification project (West Coast):
(i) 21 September 2022
Oral presentation powerpoint presented to the Hearing Panel
Download (PDF, 16 MB)
(ii) 23 August 2022
Written submission
Download (PDF)
Learn more about ecological corridors:
April 2018
Think Piece 28 (the Institute's original think piece on ecological corridors)
Download (PDF)
Designing a Water Management System for 2050
Project WaterFuturesNZ
Given the recent events, the Institute has created a new research project, WaterFuturesNZ: Securing our water future. All of the Institute's documents relevant to the recent Bill can be found on the WaterFuturesNZ page.
Think Piece 39 – Three Waters: New body corporate model reduces government accountability
September 2022 (final draft)
Download (PDF, 2 MB)
Water Services Entities Bill – Oral submission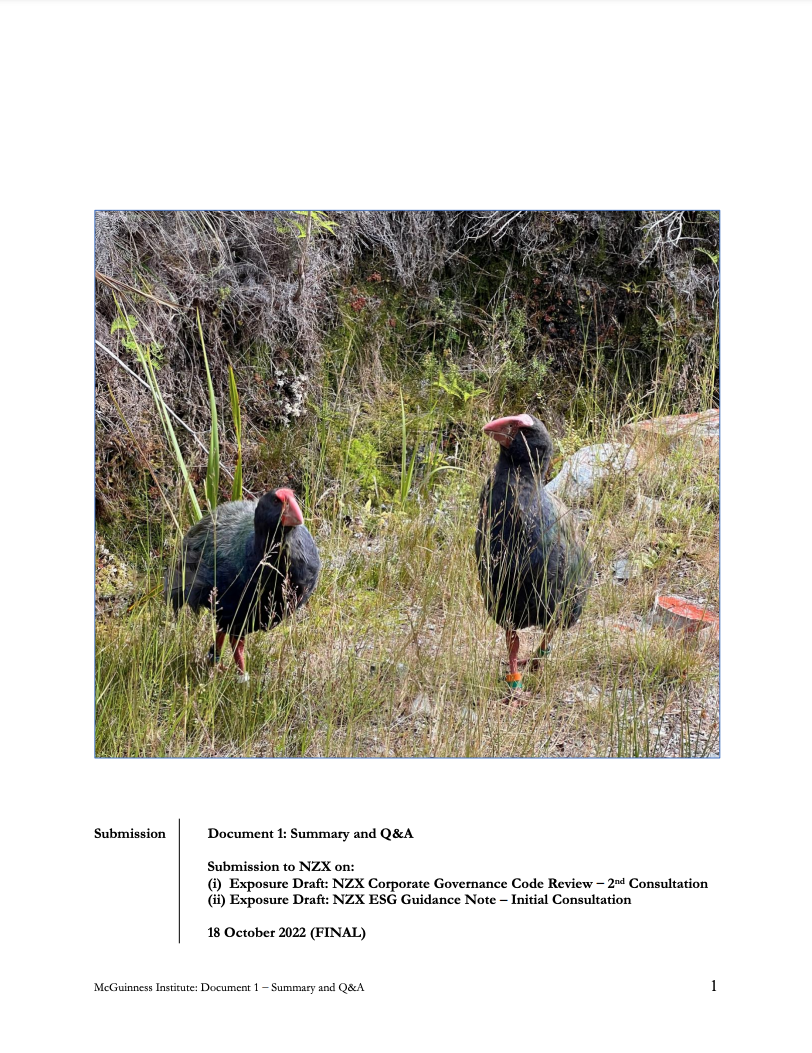 Submission – Document 1: Summary and Q&A – Submission to NZX on: (i) Exposure Draft: NZX Corporate Governance Code Review – 2nd Consultation (ii) Exposure Draft: NZX ESG Guidance Note – Initial Consultation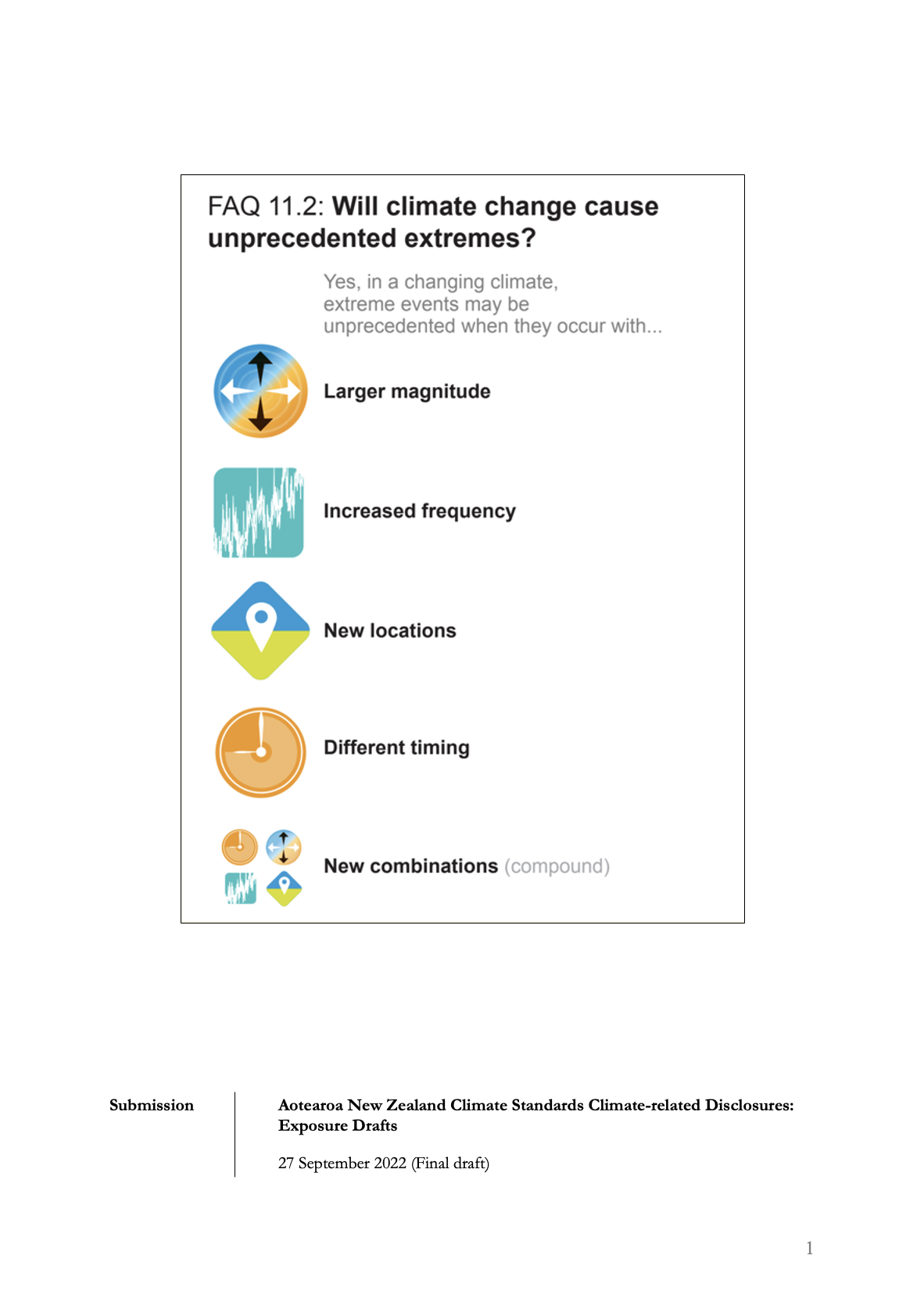 Submission – Aotearoa New Zealand Climate Standards Climate-related Disclosures: Exposure Drafts
Nation Dates (4th ed.) published
Nation Dates presents timelines of significant events that have shaped Aotearoa New Zealand as a nation.
Threads link related events and illustrate patterns that have formed over time. More than just a record of the past, Nation Dates provides invaluable context for the future at a time when society is facing major questions about the way forward. The 4th edition includes 4 new timelines: Political Agreements, New Zealand Wars, Government Net Worth and COVID-19.
Learn more at www.nationdatesnz.org
Purchase here for $35.00 (incl. GST).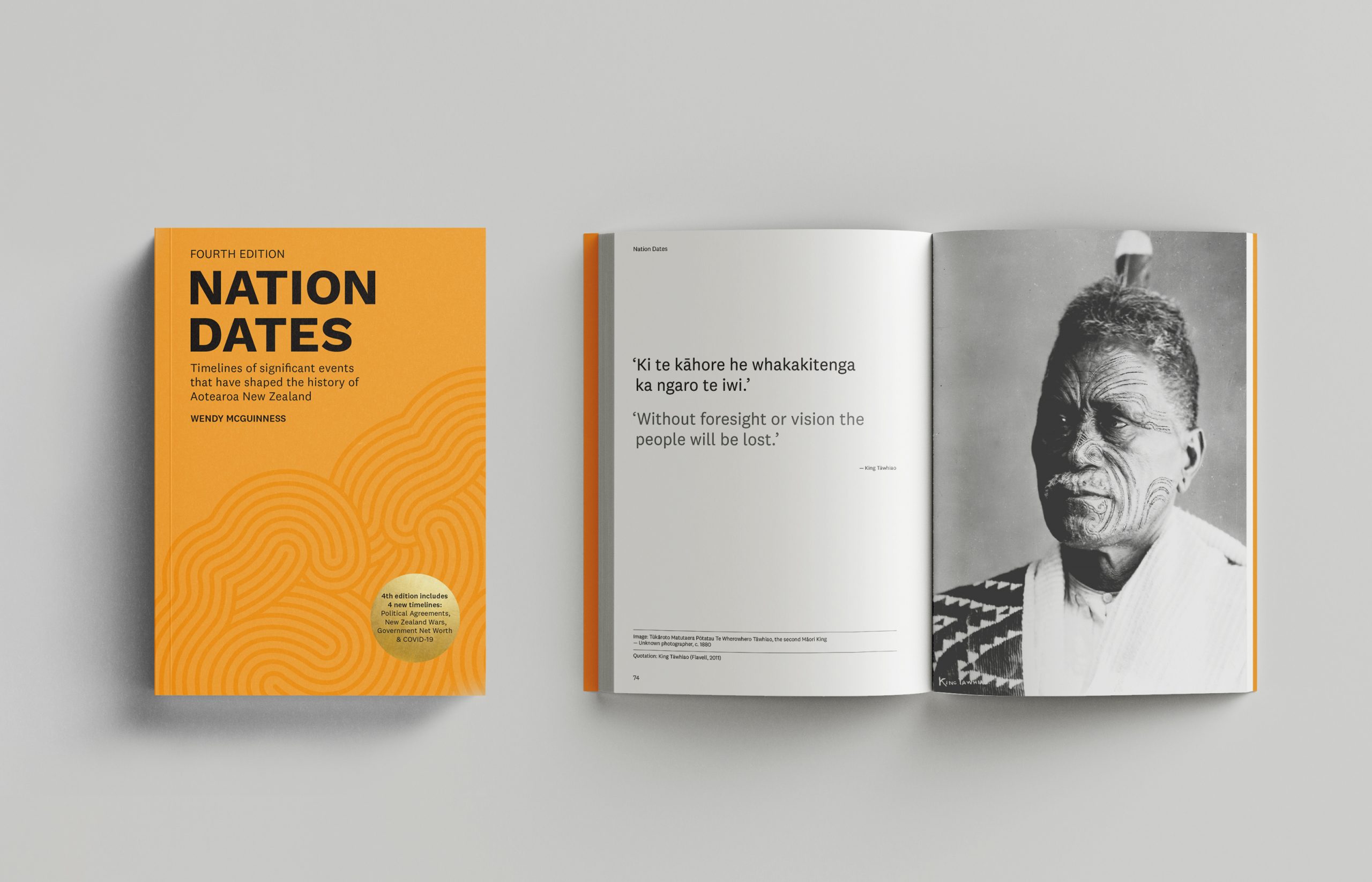 2021 Government Department Strategies Index launch webinar
On 9 June 2022 Wendy McGuinness, Chief Executive of the McGuinness Institute, presented 2021 GDS Index. View her presentation slides here.
Long-term Insights Briefings: A novel policy instrument to deal with foresight
In September 2021 Wendy McGuinness, Roger Dennis and David Skilling presented Long-term Insights Briefings in Parliament. Learn more here.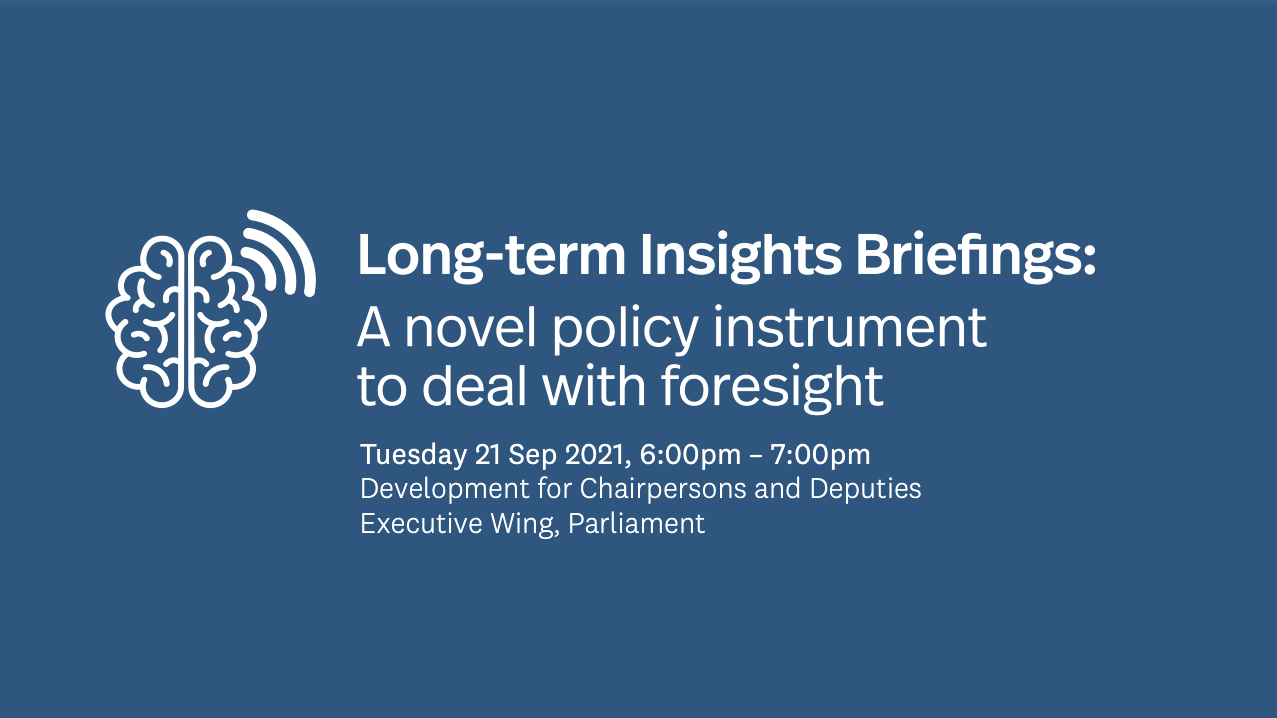 The theme for the Prime Minister's Summer Reading List 2022/2023 is the things we cannot see (or the things we decide not to see). We cannot easily see carbon in the air, dolphins in the ocean, seabirds flying above, or more specifically, the mental health of someone we love or the neighbour's...
The annual McGuinness Institute newsletter focuses solely on the work programme. It shares our journey since the last newsletter and our plans going forward.