A non-partisan think tank working towards a sustainable future for New Zealand.
The Institute applies hindsight, insight and foresight to explore major challenges and opportunities facing New Zealand over the long term.
Please note: the website is currently undergoing a refresh.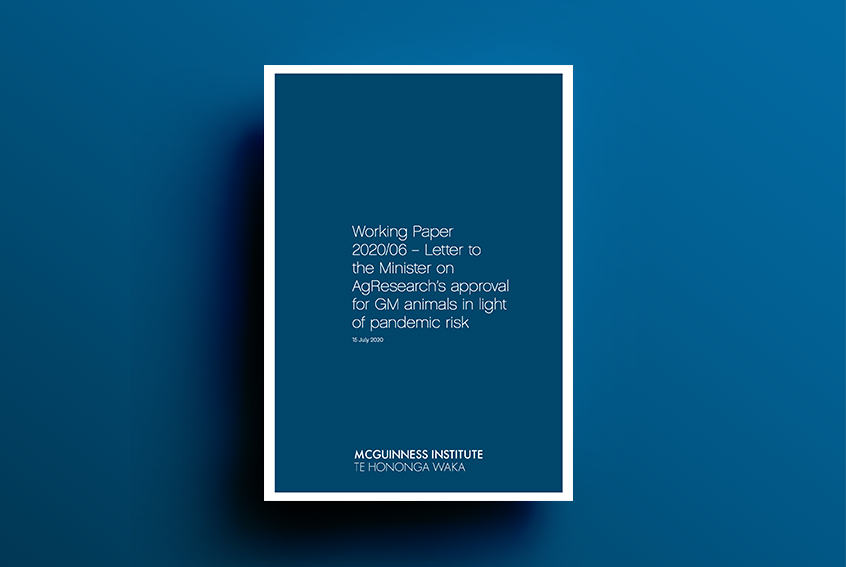 Working Paper 2020/06 – Letter to the Minister on AgResearch's approval for GM animals in light of pandemic risk.

On 28 May, 2020 the McGuinness Institute, Simpson Grierson, and the Climate Disclosure Standards Board (CDSB) hosted a virtual roundtable discussion to hear the perspectives of some of the world's thought leaders on climate change and finance.
Learn more here.
Challenge 1: Pandemic management
In March 2020, in response to the COVID-19 pandemic, the McGuinness Institute created SupplyNZ: Winning the war against COVID-19. The SupplyNZ website is a sub-project of PandemicNZ and continues to be updated with registrations for individuals and companies to share their production capabilities of PPE and other medical equipment in order to lift the supply chain.
Challenge 2: Climate change
Publication: Discussion Paper 2019/01 – The Climate Reporting Emergency: A New Zealand case study
Climate reporting is an emerging area of study and this paper looks at how we might use the existing complex reporting system to support new climate-related disclosures. We found that New Zealand's existing system and traditional institutions are not well-positioned to produce a climate reporting standard at present. In response to this finding, the paper outlines four goals to guide the design of a functional climate reporting framework and groups recommendation under each.
External Reporting: Climate-related Financial Disclosures 
This special newsletter contains extracts of relevant research reports,
articles and media releases on the topic of climate-related financial disclosures that the McGuinness Institute has become aware of since September 2019. Click here to read the newsletter.
Publication: TCFD 'Strategy' Exercise
Participants of the TCFD workshops took part in scenario-based exercises to explore opportunities and risks to business under different climate change circumstances, and to develop climate-related financial disclosures in line with the TCFD recommendations.
Please do not hesitate to contact us if you would like a hard copy of the discussion paper or if you are interested in meeting to learn more about our research.
Submission: Climate Change Response (Emissions Trading Reform) Amendment Bill
In response to the 2019 New Zealand Government Discussion Document on Climate-related Financial Disclosures, the Institute prepared a submission which builds further on our recommendations to embed climate-related financial disclosures in the existing reporting framework. The submission presents the view that the External Reporting Board (XRB) should prepare a non-financial reporting standard in line with the TCFD that requires 'climate reporting organisations' (selected public and private sector entities) to prepare a statement that will form part of the annual report.
Challenge 3: Foresight Infrastructure 
The Institute has several ongoing, interlinked projects and publications that are intended to contribute to building an efficient foresight infrastructure for New Zealand. Our third challenge looks at ensuring that New Zealand's information infrastructure, strategic direction, future planning (e.g. scenarios) align with New Zealand's desired vision for the future.