As part of the follow-up to the 2016 TacklingPovertyNZ workshop tour, we will be posting one blog a day over the next few weeks to accompany the workshop speaker videos published on our YouTube channel.
Watch Jess Jacobs, single mother and volunteer helping the homeless and hungry in Gisborne, discuss local initiatives and her thoughts about key issues for locals at the one-day Gisborne TacklingPovertyNZ workshop on 31 August 2016 in the video below.
Jess wanted to celebrate the volunteers of the Gisborne/Tairāwhiti community, some of whom are struggling themselves.
She shared the work of some local initiatives working with food such as the Facebook group Feed Tairāwhiti (focusing on the homeless), Gizzy School Lunches (focusing on children and young people in education), and the food waste initiative (starting up to redistribute food waste). Jess acknowledged that access to nutritious food is one of the key issues of poverty. Other key issues she discussed included
Housing: 193 people are on the emergency housing list in the Gisborne/Tairāwhiti area. There is also a shortage of longer term, affordable housing.
Support for single parents: single parent families make up 21.9% of families in the Gisborne/Tairāwhiti region.
Methamphetamine addiction: the area needs a rehabilitation centre with a holistic approach to dealing with addiction issues.
Cultural autonomy: historical injustices need to be addressed. For example, in place and street names repetitively named after James Cook, as well as 'Poverty Bay'.
Environmental spaces: spaces have an effect on people's outlooks and how they feel. More community facilities and spaces should be introduced to the outer suburbs for people's overall empowerment and wellbeing.
About the TacklingPovertyNZ 2016 tour
The 2016 tour was a response to a 2015 three-day workshop that brought together 36 participants aged 18 to 25 representing a diverse range of backgrounds from throughout New Zealand. Participants found that 'assuming that one solution will work everyone indicates a failure to address cultural disparities and injustices, and an ignorance of the diversity of our population'. The purpose of the 2016 tour was to build and share ideas on how to tackle poverty, come up with local solutions and connect like-minded people within communities.
The Gisborne workshop was one of six, along with workshops in Queenstown, Manawatu, Rotorua, Kaitaia and Kaikohe. A discussion paper for each area visited has been published on our website. These papers are specific to each community and together form a series showcasing insights from individuals who attended a one-day workshop in their local community.


To learn more about the tour, read Working Paper 2017/01 – TacklingPovertyNZ 2016 Tour: Methodology, results and observations here. This paper brings all the outputs from the six workshops together and aims to illustrate the diverse range of challenges and opportunities existing in communities.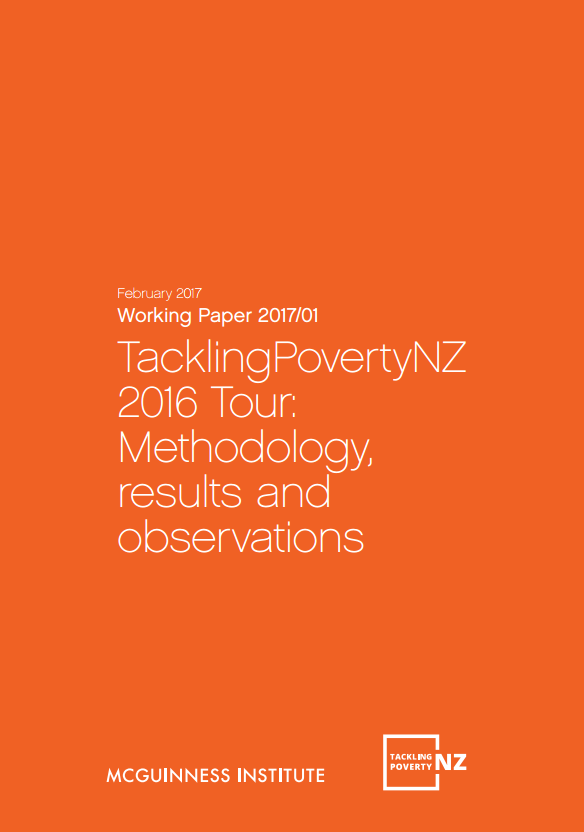 In 2017 we would like to build on these findings. There was a lot to learn and digest, and we are still working through what this means in terms of public policy.
To stay up to date with Project TacklingPovertyNZ, subscribe to the newsletter here.