As part of the follow-up to the 2016 TacklingPovertyNZ workshop tour, we will be posting one blog a day over the next few weeks to accompany the workshop speaker videos published on our YouTube channel.
Watch Dr Carwyn Jones (Ngāti Kahungunu), Senior Lecturer in the Faculty of Law at Victoria University of Wellington, shared his insight into the concept of 'bandwidth thinking', the importance of local initiatives, and how to create the best outcomes from treaty settlements at the one-day Gisborne TacklingPovertyNZ workshop on 31 August 2016 in the video below.
Carwyn explains that people who are in poverty are constrained by needing to constantly focus on managing material wellbeing and access to services. This limits the amount of space, or bandwidth, left to make other kinds of choices and decisions and to engage in other areas of public life. If we can lessen the amount of bandwidth used on urgent practical issues, then people who are in poverty may be empowered to live the lives that they want to live.
Carwyn also spoke of the importance of considering local examples. Looking at the country as a whole is one thing, but it is important to recognise the distinct local economies and effects in communities. He found that when communities are empowered to make decisions for themselves, they tend to make better decisions for their communities than others would. This conclusion was based on two key factors:
They know their communities better, and they know what will work for them.
There is more accountability that is closer to home. The decision makers are directly impacted by making poor decisions.
He noted the need to recognise not only inequality, but also to think about how to recognise the different needs within communities.
Carwyn also informed participants about case studies of some mechanisms being used by iwi in New Zealand, as well as indigenous people in the United States. For example, the settlement process in Wairoa has not simply been about the monetary component (which provides a good platform for further development), but also about working with social service agencies to plan and set priorities with acknowledgement of cultural values and specifically tailored for the community.
Carwyn ended his presentation by stressing the importance of looking at poverty in the context of wider wellbeing issues (not simply the material, economic issues) and to think of the connection between the decision-making authority and the impact on the community.
About the TacklingPovertyNZ 2016 tour
The 2016 tour was a response to a 2015 three-day workshop that brought together 36 participants aged 18 to 25 representing a diverse range of backgrounds from throughout New Zealand. Participants found that 'assuming that one solution will work everyone indicates a failure to address cultural disparities and injustices, and an ignorance of the diversity of our population'. The purpose of the 2016 tour was to build and share ideas on how to tackle poverty, come up with local solutions and connect like-minded people within communities.
The Gisborne workshop was one of six, along with workshops in Queenstown, Manawatu, Rotorua, Kaitaia and Kaikohe. A discussion paper for each area visited has been published on our website. These papers are specific to each community and together form a series showcasing insights from individuals who attended a one-day workshop in their local community.

To learn more about the tour, read Working Paper 2017/01 – TacklingPovertyNZ 2016 Tour: Methodology, results and observations here. This paper brings all the outputs from the six workshops together and aims to illustrate the diverse range of challenges and opportunities existing in communities.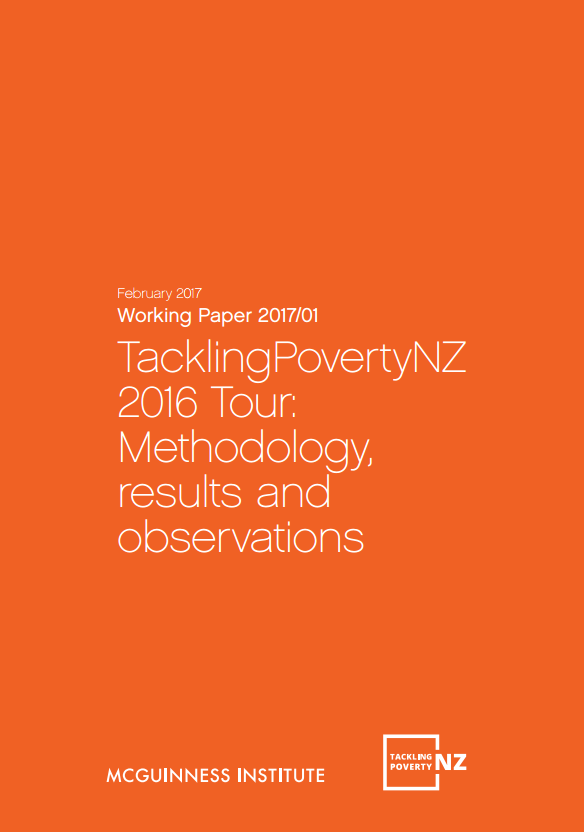 In 2017 we would like to build on these findings. There was a lot to learn and digest, and we are still working through what this means in terms of public policy.
To stay up to date with Project TacklingPovertyNZ, subscribe to the newsletter here.