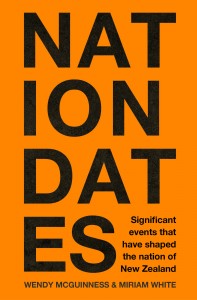 In September of last year the McGuinness Institute published Nation Dates: Significant events that have shaped the nation of New Zealand.
The second edition of Nation Dates is under way! We want the book to be the best reflection of our history and identity as a nation. Therefore, we are eager to hear your thoughts on other dates and events that are significant to the shaping of New Zealand.
Some of the suggestions we have already received include;
1772 – The Bay of Islands Massacre
1770 – The Introduction of Rabbits
1904 – The first use of a cartoon kiwi
1944 – Introduction of paid annual leave
1998 – Hikoi of Hope
2011 – The Rena Oil Spill off the coast of Tauranga
Any new dates will be most welcome. Suggestions can be posted on our feedback page on the Nation Dates website. We look forward to hearing from you!
Wendy McGuinness and Miriam White